In celebration of his sister's birthday, Prince Charles shared the Queen's tweet on his Instagram story alongside the caption, "happy birthday to the Princess Royal!"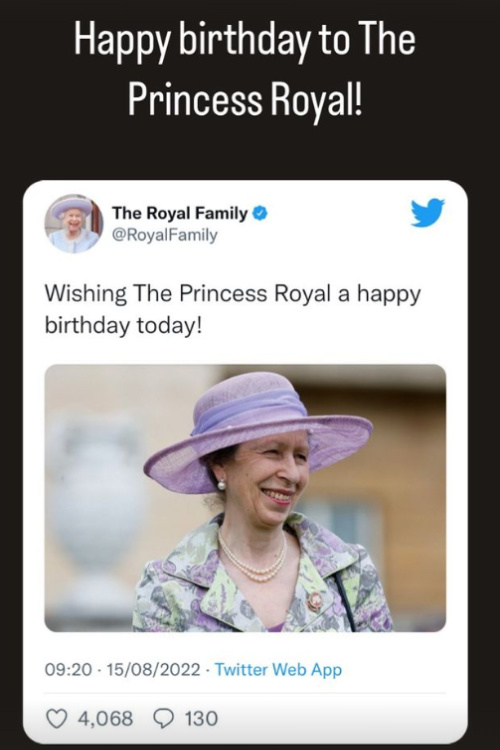 The Duke and Duchess of Cambridge conveyed their birthday wishes to Anne via an Instagram story, sharing a photo of the royal enjoying a race day at Epsom Racecourse as part of the Queen's Platinum Jubilee celebrations in June.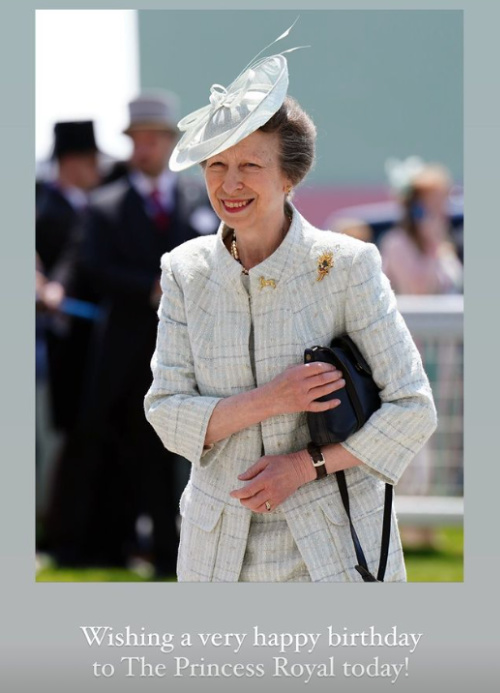 However, birthday wishes were not just confined to members of the Royal Family, the public also took to social media to deliver their birthday messages to Princess Anne.
Anne is the second child and only daughter of Queen Elizabeth II and the late Prince Philip and is 17th in line to the throne. 
She became the first member of the Royal Family to compete in the Olympic Games in 1976 and while competing as an equestrian has won gold and silver medals at the European Eventing Championships and is the patron of over 300 organisations, including WISE, Riders for Health, and Carers Trust.
Anne isn't the only one to receive a warm reception from the Royal Family on her birthday, earlier this month royal figures appeared to take a reprieve from their long-running feud with Meghan Markle as they wished her a happy 41st birthday.
The birthday messages from the likes of Prince Charles, Prince William, and the Duchess of Cambridge got royal watchers hoping that the highly anticipated feud between the Sussexes and the Royal Family could soon be cooling off.
The Duke and Duchess of Cambridge were the first to deliver their good wishes, taking to Twitter to "wish a happy birthday to the Duchess of Sussex!", alongside a photo of Markle as she attended the Queen's Platinum Jubilee celebrations in June.
Prince Charles and Camilla soon followed suit, wishing their daughter-in-law a happy birthday alongside a similar photo from the Jubilee celebrations.
Despite wishing Prince Anne a public happy birthday, noticeably absent from Markle's birthday wishes was the Queen whose official social media accounts remained quiet for Markle's birthday.
Instead, the Queen opted to highlight Princess Anne's appearance in Edinburgh for the rehearsals of the Edinburgh Tatoo.