Her hair survived the day and night festivities too, and looks perfectly in place in the loose up do she chose for the ceremony.
Meanwhile, Harry is dressed smartly in his suit for the casual photo and while he holds one arm around his wife, he also reaches back with his other to hold her hand in a romantic gesture.
The photo was taken by photographer Chris Allerton and came alongside separate photos from both the Cambridge family, and their father Prince Charles and step-mother Camilla.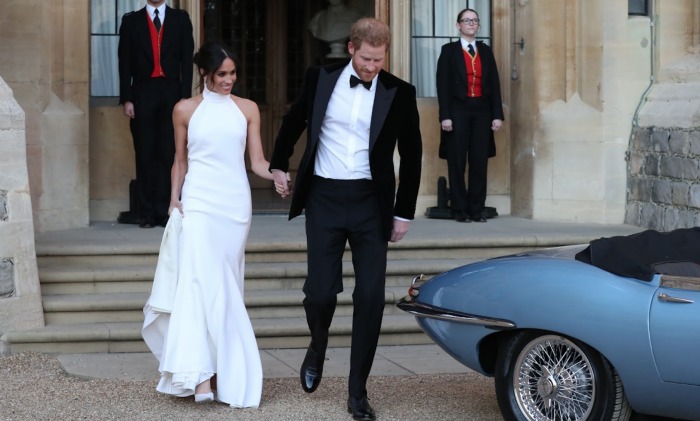 While it's the first official glimpse the couple have given from inside their reception, it's also their first official Christmas card together after finally tying the knot.
They joined the Duke and Duchess of Cambridge, who released a charming and informal photo for their own Christmas card with their kids Prince George, Princess Charlotte and Prince Louis, as well as Harry's father Prince Charles and his wife Camilla, who released their own showing them gazing lovingly at each other at Clarence House.
She reportedly ended it by saying: "I have found my prince."
However, the bride wasn't the only one to surprise everyone with some moving words, as according to the Mirror, Harry told guests: "You are the people that make 'me' me in my Harry life, which as you know is the backbone to Prince Harry."
Read more: Inside royal wedding reception as Meghan stuns guests with moving speech
The Sun claims he also revealed how much he's looking forward to "spending the rest of my life" with his wife, and said they "make such a great team".
While his best man Prince William reportedly had the crowd in stitches with a funny speech of his own, joking about Harry's "growing bald patch" and even paying tribute to their mum Princess Diana, it was their father Prince Charles who is said to have brought guests to tears with his own emotional speech, reportedly saying: "My darling old Harry, I'm so happy for you."
Do you like Meghan and Prince Harry's wedding photo?