"Grandads production was a little too bright and loud for my liking," she wrote alongside the photo.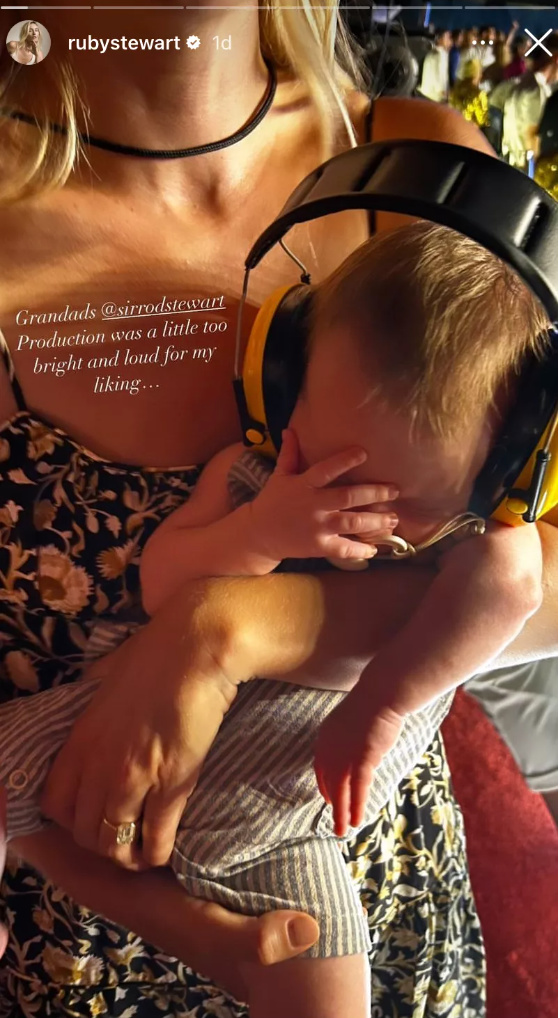 While Stewart no doubt delighted audience members with the introduction of his grandkids, he previously melted hearts across the world after a touching snapshot of an adorable moment with his newborn grandson was shared on social media.
The rock legend's daughter, Ruby, took to her Instagram on Tuesday, July 18 to share the touching snapshot capturing the 78-year-old with her 10-week-old son, Otis, nestled on his lap.
In the heartwarming moment, Stewart lovingly planted a gentle kiss on top of little Otis' head. Accompanying the photo, Ruby affectionately referred to her dad as "Papa Stew (Silly Grandad)."
As Stewart's grandsons made their adorable stage debut in Spain, it comes amidst his recent discussions about retiring from live shows.
Stewart made the shock revelation during a recent interview with the Daily Record where he announced that although he wants to move away from touring he is not planning on retiring altogether anytime soon.
"Next year will be the end of my rock 'n' roll touring. I want to do something different. It feels like an end of an era," he said.
"All things must come to an end.
"I'm not retiring and I still love singing, I just want to do something new. I might do a few folk clubs playing guitar. Just be different."
Stewart opened up about how performing in the "big tours" had lost its appeal as it keeps him away from his children.
"I don't want to do the big tours any more, especially in America. It takes me away from my kids for so long," he said.
"It used to be OK because it was fun and games. It is still fun and games but I miss my kids so much.
"I've got one more year doing big gigs in South America, Australia, a Las Vegas residency, some more in England and a couple in Edinburgh.
"But I'm not retiring – I just want to move on."