"The new season will be filmed in the Middle East, so it will definitely take Pauline out of her comfort zone," they said.
However, the Daily Telegraph reports Hanson's reality TV move is an effort to "revive her political fortunes."
While Hanson herself hasn't revealed whether she's getting paid to appear on the show, it's reported she could make up to six figures on the programme.
Hanson's newest TV stunt comes fives years after she appeared in Parliament wearing a burqa in an effort to ban the religious garment, citing security concerns.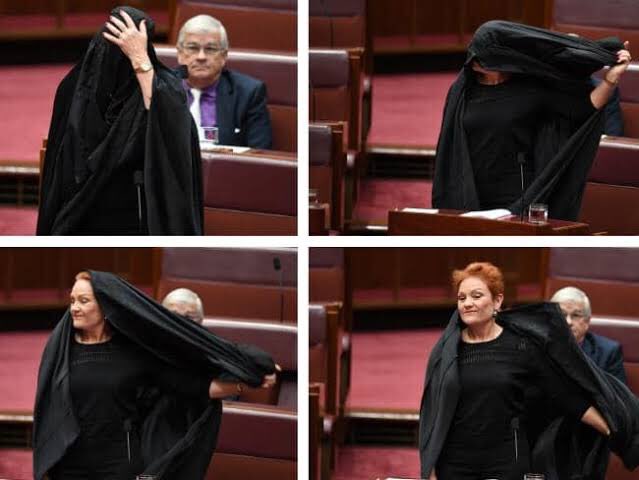 "In light of what is happening with national security… will you work to ban the burqa?" she said at the time.
The stunt sparked outrage from many members of the public and other political figures like then attorney-general George Brandis, who said "to ridicule that community, to drive it into a corner, to mock its religious garments is an appalling thing to do."
Hanson has been no stranger to Senate drama, in July this year, she stormed out of the chambers during the Acknowledgment of Country ceremony.
While recognising the Ngunnawal and Ngambri peoples as the traditional custodians of the Canberra region, Senate President Sue Lines was interrupted by Hanson.
"No, I won't," Hanson yelled as she exited the chambers.
"I never will."
Hanson later told Australian Associated Press that she had been "feeling this way for a long time".
"I have called from the first day for equality for all Australians. I see this as divisive," she said.
Hanson's outburst was once again met with swift condemnation from the public and fellow ministers.
More recently though, Hanson has won over the hearts of members of the Christian organisation Family Voice Australia who awarded her as Mother of the Year.
The competition was established "to highlight the importance mothers play in the development of the child" and "to recognise that mothers make a positive impact at home, work, community, church and in the family".
Awards Selection Committee Chairman Greg Bondar said: "Pauline Hanson, a mother of four and a grandmother of 6, is a worthy recipient given her commitment to family and the community and indeed Australia as a member of federal parliament."
The Daily Telegraph reported Hanson was unaware she was nominated, but that she was "very honoured" to receive the award.