The woman allegedly engaged in unpaid prostitution under the man's coercive control, was subject to ongoing physical, sexual and psychological abuse and degradation, and upon expressing wishes to leave, was subjected to death threats.
"[She] was coerced, manipulated and threatened to be involved in a bondage lifestyle, where there was alleged coercion and control," ​Gough said. "She was in slave-like conditions, there were aspects of … a slavery contract, and there were aspects of a slave collar and a slave tattoo. She was [allegedly] forced into prostitution with no pay. She was threatened with physical abuse and threats of death if she left that circumstance."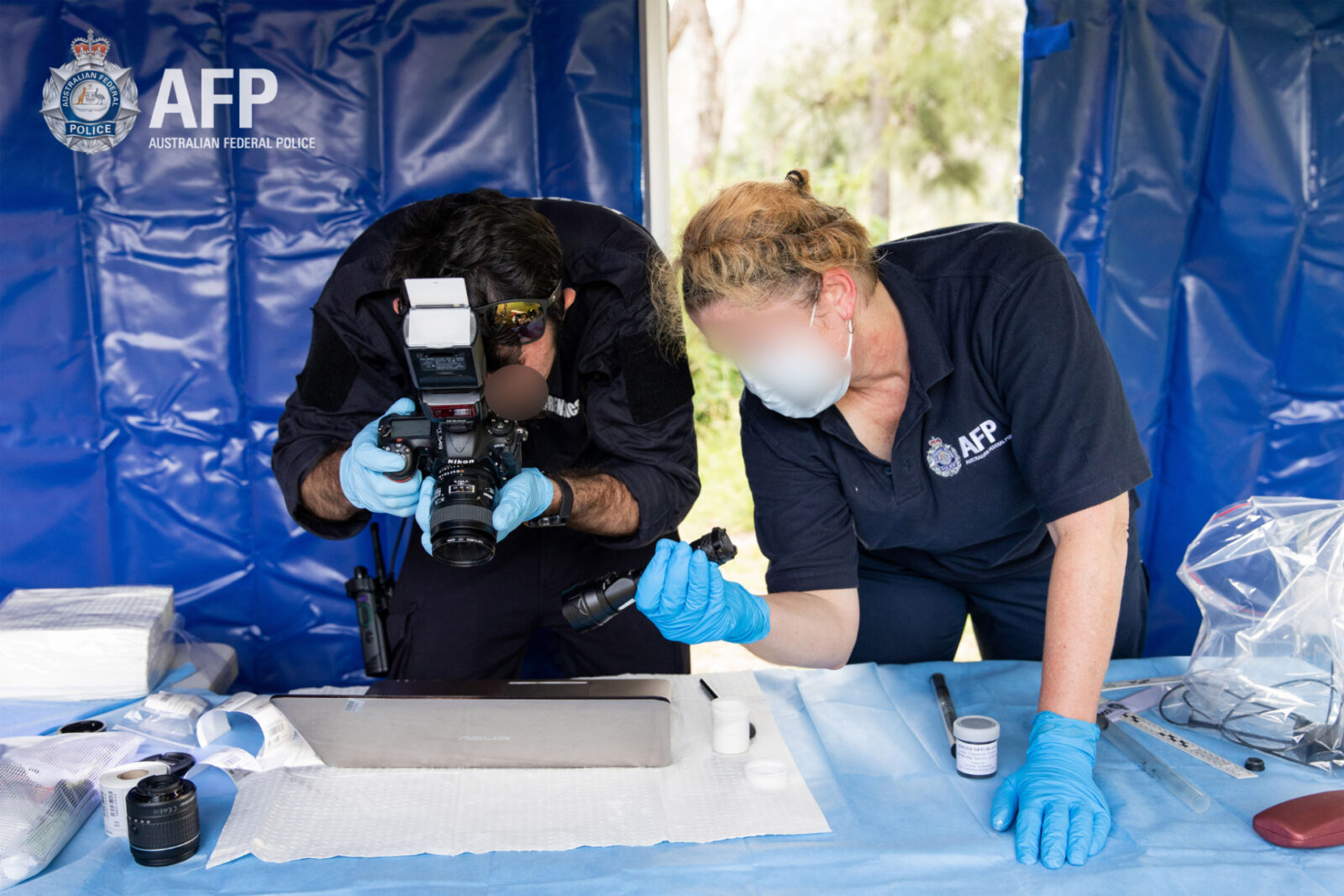 Last week, more than 50 AFP investigators and forensics specialists searched the man's property, which is located about 30 kilometres from Armidale, seizing documents, phones, cameras and computers, which will be subject to forensic analysis.
It is alleged Davis was living with six women at the property, who, the police allege had signed documents known as slavery contracts, and were in the alleged "possession" of the man.
Davis will face slavery and sexual servitude offences. Under modern slavery laws in the Commonwealth criminal code, slavery offences carry a maximum penalty of 25 years in jail, while servitude offences carry a maximum 15-year term, or 20 years for aggravated offences.
In a trailer for a documentary series filmed three years ago, Davis described himself as a "BDSM slave master", "consent advocate, sex-industry professional, slut enthusiast, unlicensed gynaecologist".
The video shows four women kneeling before Davis as they recite their "slave" numbers, before saying they are ready and waiting to serve.
The AFP's human trafficking unit launched their investigation into Davis based on information provided to it by the ABC's Four Corners program, which aired a harrowing documentary about one woman's experience within the "cult" on Monday.
Gough said the AFP is appealing to any victims, potential witnesses or communities impacted by human trafficking to come forward, and says there are pathways to support.
"We want the public to be aware that human trafficking, slavery and slavery-like practices are happening here in Australia, all too often without anyone in the community knowing," Gough said. "Our hope is [that] for every case we investigate, it helps others experiencing similar conditions to speak up and seek our help. It is up to all of us to work together to protect people who are vulnerable to the exploitative crimes of modern slavery."
Davis appeared in Armidale Local Court on Friday, where he did not apply for bail. He was remanded in custody and is due to reappear before Armidale Local Court on Wednesday, March 17.
Police have not ruled out the possibility of additional future charges, and are calling on anyone who can assist the investigation to report information by calling 131 AFP (237), or by emailing the AFP's National Operations State Service Centre ([email protected]) and quoting 'Operation Saintes'.
———————————————————-
Please note: the National Sexual Assault, Family & Domestic Violence Counselling Line is: 1800 737 732. Crisis support can be found at Lifeline: (13 11 14 and lifeline.org.au), the Suicide Call Back Service (1300 659 467 and suicidecallbackservice.org.au) and beyondblue (1300 22 4636 and beyondblue.org.au).