"A wee way to go but so much better than she was."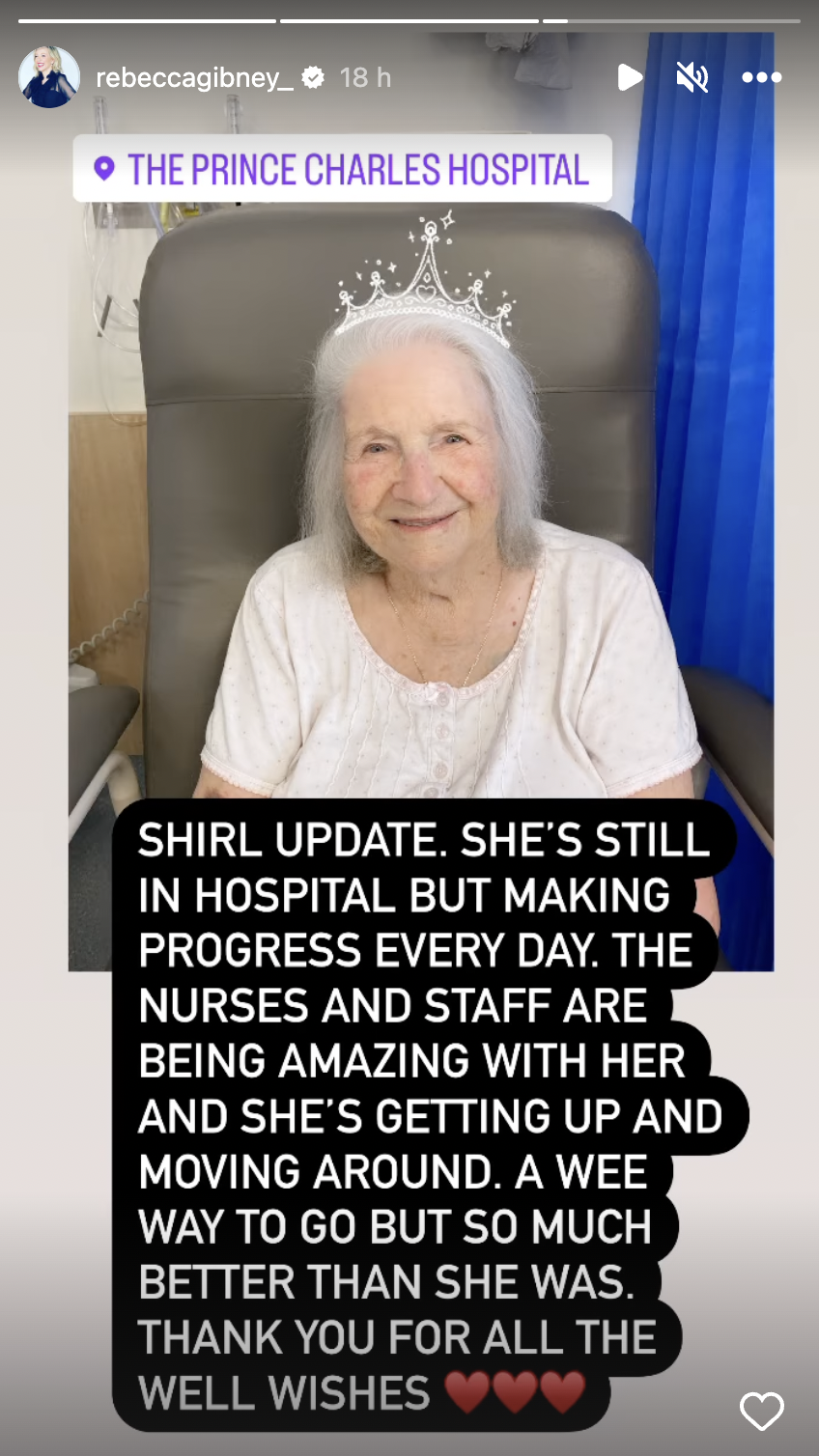 The update comes two weeks after the Kiwi-born actress announced that her "Mama Shirl" had a horrific fall that caused her to fracture her back.
"I know many of my followers love also following Mama Shirl so I thought I'd give you an update. A few weeks ago Mum had a bad fall and has a fracture in her back which is painful and causing some issues," Gibney's post read.
"Mum is a trooper but along with all the issues she has – the next little while is going to be challenging so we ask that you hold her in your collective hearts as you always do. We so appreciate the support."
 

View this post on Instagram

 
Gibney's fans were quick to leave messages of support for the actress, with many offering advice based on their own experience with falls and taking care of parents.
"Oh no! Poor Shirl. Get into all those calcium rich foods Shirl. Tinned salmon with bones, yoghurt, milk smoothies. A friend ( 78) fractured her back coughing with a lung infection and recovered 99%. Best wishes and gentle hugs," one user wrote.
"Keeping Shirl in my prayers and sending positive thoughts to her. My Mom had a bad fall last week. Luckily no breaks. She will be 97yrs the end of March. Our mothers are so dear," another added.
"Sending prayers to your lovely mum, my dad has same injury, he is still in so much pain after fracturing 2 verterbrae 5 months ago, we have now been referred to back surgeon, but the family don't want him to have surgery as he is 92. So difficult to our parents in pain," commented a third.
Gibney has never been one to shy away from sharing with her fans the realities behind her famed life.
Last November, the internet praised her for being refreshingly honest about some of her more glamorous photos, after she reminded fans that behind her stunning pictures and red carpet looks is a regular person.
Prior to that, she opened up on the crippling health battle she faced during her rise to fame and got candid about being raised with an abusive father, in the hopes that it may help others going through a similar experience.