It's all about convenience when it comes to the wide range of collapsible accessories on offer, with items such as kettles, drink bottles, food containers and buckets are all able to be squished up and easily stored away before/after use.
Those who tend to travel with more cargo can also purchase roof racks for $99.99, steel loading ramps for $79.99 and awning tensioners for just $24.99.
But it's not only caravan-exclusive items in the range, with picnic rugs, thermal cookers, portable clotheslines, widescreen TVs, foldable ironing boards, cooler bags, back-seat organisers and dash cameras also on offer for low prices.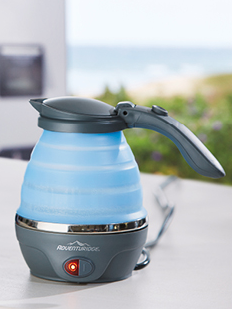 The speciality sale will kick off in stores on Saturday, February 13. It will only run while stocks last, so eager shoppers are urged to get in quick smart.
Aldi's other Special Buys sale – this Saturday, February 6 – centres on items that can be used in the home office. These include blue-light blocking glasses for $9.99, a Samsung computer monitor for $149, a Canon printer for $39.99, a paper shredder for $59.99 and a laminator for $18.99. It also includes all the necessary office supplies, such as desk planners, stationary, bookcases, office chairs and desk risers.
The same Special Buys kicking off on February 6 will include a range of plumbing options, such as taps, vanities, tools, silicone tape and pipe cleaners for anyone looking to do a cheaper home bathroom reno!