And again proving she's not one for throwing away favourite items after just a couple of uses, she brought out what are clearly a pair of well-loved black boots for the occasion too. While she wore one familiar pair with black, tasselled laces outside, she later swapped into white lace-ups as she accepted her award.
Diane has been pictured at several events over the past year in the high-heeled black lace-up ankle boots of various kinds, and they went perfectly with this outfit. Once inside, she dropped the statement coat and accepted an award on stage in a black flowing skirt.
Diane received a Lifetime Achievement Award at the bash, alongside Steven Spielberg and Italian actress Stefania Sandrelli, and she couldn't contain her happiness as she posed with her gong on stage.
Read more: Diane Keaton's clever comfy feet trick any woman can use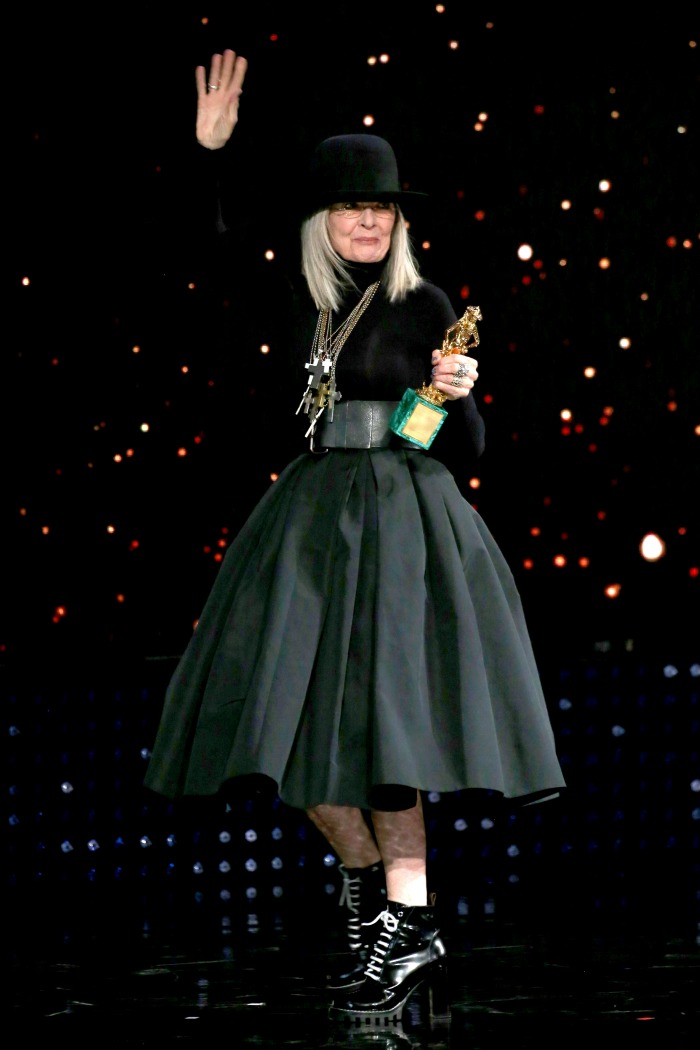 While she's a leader in 60-plus fashion, Diane always ensures that her style has an unusually practical side.
The actress, like most women, is probably no fan of squeezing her feet into uncomfortable, pointy heels or pinching strappy sandals. So, instead of bowing to fashion dictates and suffering along with the rest of the glamour set on the red carpet, she's found a way to wear more comfortable shoes and still look fab in her own unique way, with plenty of pairs of unusual boots.
And she doesn't let the fact they're boots hold her back when it comes to matching them with dressy outfits. She clearly searches for pairs with unusual touches, such as contrasting laces, buckles and bows, to glam up the look.
Are you a fan of Diane Keaton's style? What's your favourite look for her?