She opted for a cowboy-inspired cream blouse. With vibrant grey pockets and shiny silver buttons, it was clear that the Oscar-winning star was going for a different look. The blouse was tucked into a tight blue pencil skirt that showed off all Nicole's curves and exposed her calves.
Nicole completed the look with a gorgeous pair of pointy red boots that came over her ankles. Her trademark red hair was dyed blonde for the event and she wore it in a slick and straight style that came past her shoulders.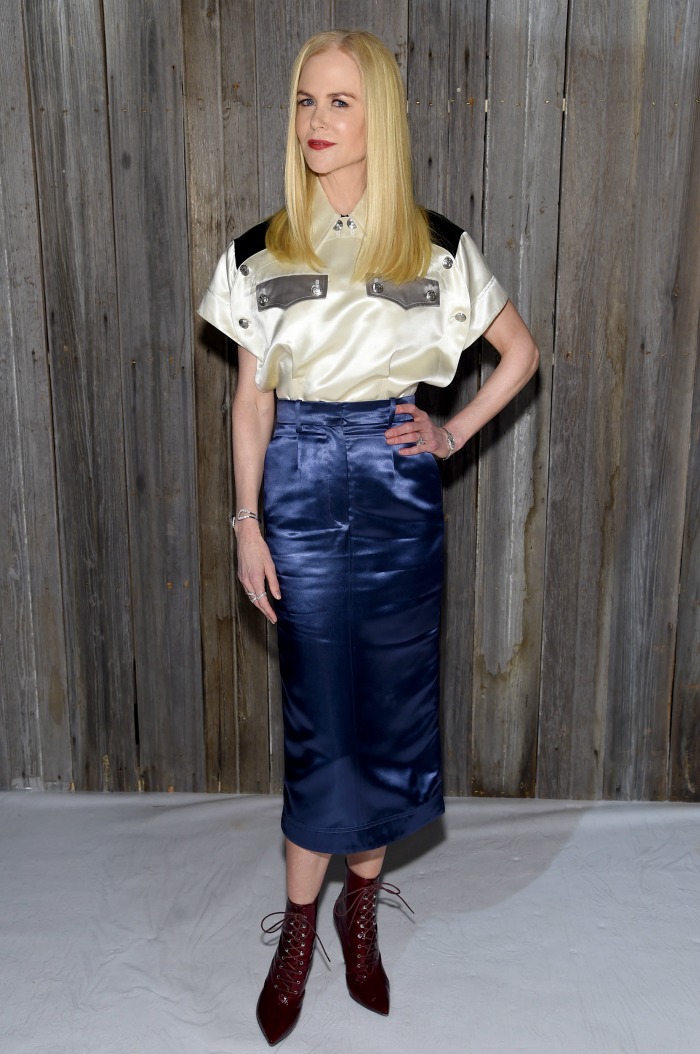 When it came to jewellery, she wore a bracelet on each hand and numerous rings on her fingers. To keep her warm in the bitter New York winter, Nicole opted for a long royal blue coat.
Her look was topped off with ruby-red lipstick and blush, giving her a youthful look that rivalled other celebrities like Margot Robbie and Laura Dern.
The star was so excited for the show that she shared a snap of herself getting ready on Instagram. "Off to the Calvin Klein show," she gushed. "So excited."
Fans weren't sure what to make of her choice of outfit. On one hand, there were fans who couldn't get enough of it. One comment read; "You look stunning as usual Nicole. Love you".
Another person said: "Loving the sexy business look – so intriguing and curiously enticing," while a third comment read: "You're looking so young and fresh here. My favourite elegant actress".
Others didn't agree, with one person writing: "The collection is terrible Nicole. Do not buy". Another went even further and said: "Someone is having a laugh … that cowboy outfit is hideous".
Are you a fan of Nicole Kidman's latest look? Is this something you'd wear, or is it a little bit out there for your taste?
---
With Facebook removing news sites from your feeds we ask that you sign up for Starts at 60's emailers here. And to keep us on your wall, join some of our new Facebook groups and clubs: