Opting for a statement frock, the 62-year-old former foreign minister chose to keep her make-up to a minimum with a soft pink lip and a touch of blush.
The event in Sydney marked the end of the six day show which highlights the country's best fashion designers. The annual showcase gives designers the opportunity to connect with potential buyers, the press and consumers, giving them ideas for future trends.
While Bishop's former colleagues have been busy preparing for this weekend's federal election, her attention has been elsewhere with a busy schedule of events. She looked sensational as she spoke at a charity fundraiser last week, opting for a skintight leopard-print dress and towering black stilettos.
While the former deputy leader of the Liberal party showed off her incredible figure, she also made a statement with her new cropped hair do and a splash of natural make-up.
Sharing a photo on her Instagram page, Bishop wrote: "Nearly 1 in 5 mothers and 1 in 10 fathers experience perinatal depression and anxiety. Speaking at @gidgetfoundation #safari lunch with 1500 supporters to raise funds for this worthy cause #mothersday #PND."
The Gidget Foundation works to raise awareness of perinatal anxiety and depression and Bishop's appearance came in the run up to Mother's Day last Sunday.
It was just one of a stream of beautiful appearances from Bishop recently. She exuded confidence as she posed for snaps in a pair of black leather pants and a crisp white shirt to raise awareness for World Ovarian Cancer Day just days prior.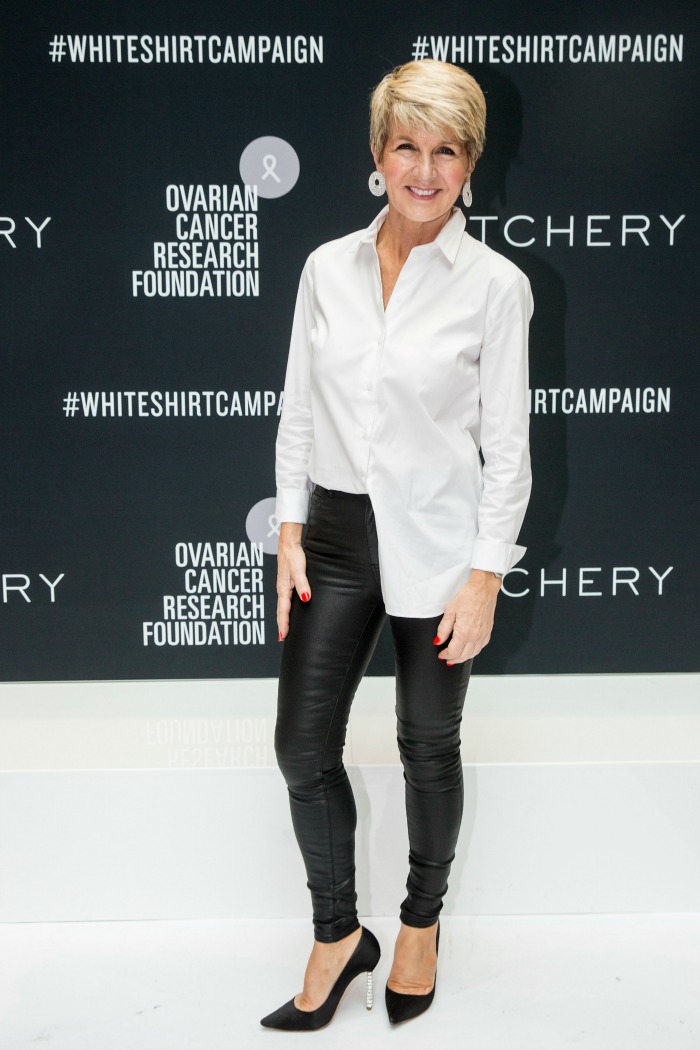 Read more: Glamorous Julie Bishop looks sensational in skintight leopard-print dress
Standing tall in black stilettos, the former pollie made a bold statement at the event at the Witchery head office, with red nail polish and dangly earrings. The fashionable politician joined a number of high profile women representing the White Shirt Campaign run by Australian fashion label Witchery.
The campaign itself ran from April 10 to May 8, with White Shirt Day recognised on the last day. Women across the country were given the opportunity to raise much needed funds for ovarian cancer research by purchasing and wearing a white shirt.
Are you a fan of Julie Bishop? What do you think of her outfit choice?