Taking to Instagram shortly after exchanging vows, Edwina posted a photo of her gran in the gown from her wedding to her grandfather in 1944. Alongside it, she added one of herself in the dress 74 years later – and both women looked stunning.
She wrote: "I was very close to my beautiful grandmother, Mimi. She was strong and outspoken and naughty. She would pop out for a skinny dip in the middle of summer dinner parties and loved the Tennis because the 'men had such good legs'. She was so full of life.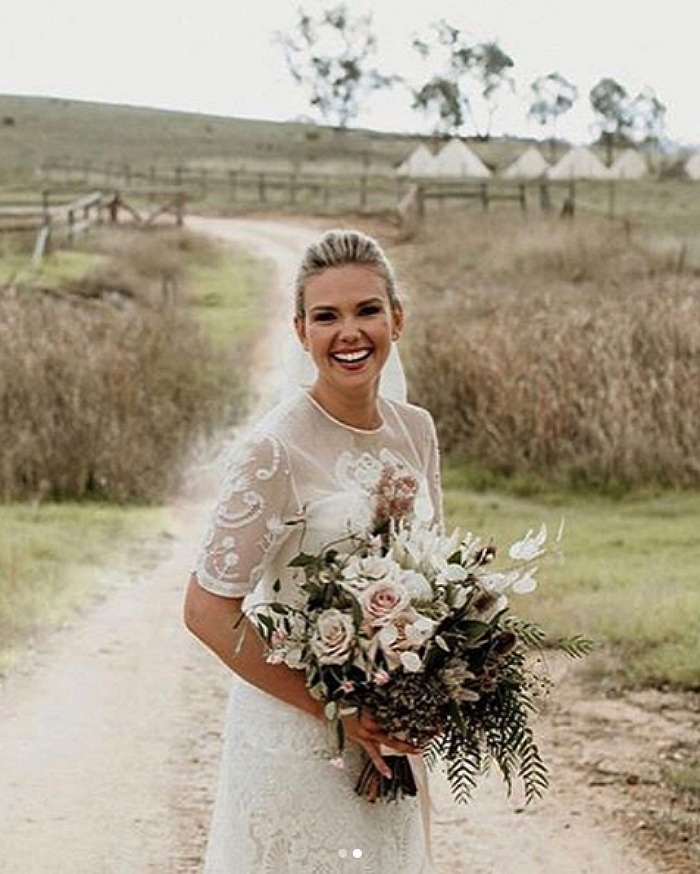 "She wore this wedding dress in 1944 when she married my grandfather, Keith Halley. My great grandmother wore the veil for her wedding in 1915. More than twenty women in my family have now worn this dress and veil over the past 100 years."
Edwina recruited Cappellazzo Couture to transform her dream into reality, and they made slight changes to the original gown to freshen the fabric and style. Designer Sonia Cappellazzo revealed they spent about 12 months perfecting the changes to the 1920s cotton and lace gown.
https://www.instagram.com/p/Bh0fBN_HT3f/?hl=en&taken-by=edwina_b
"To see Edwina wearing history with such beauty and grace and making history and knowing that we had a little part in this, is very humbling and I wish Edwina and Neil continued happiness and memories forever," Cappellazzo wrote on Instagram.
While Mimi wore a large headpiece for her wedding, Edwina chose to keep her look more simple, with her blonde hair tied back in a simple bun with a veil perched on top.
https://www.instagram.com/p/Bh2bC5xHnyA/?taken-by=larryemdur
https://www.instagram.com/p/Bh3NtQ_H0-t/?hl=en&taken-by=edwina_b
Among the star guests to attend the weekend nuptials were Sunrise's Samantha Armytage, Natalie Barr and weatherman Sam Mac, along with The Morning Show's Larry Emdur.  
Larry shared his own photo of the happy couple sharing a kiss after the ceremony, with the beautiful backdrop showing white tents set up in the background for guests to relax in. He wrote: "When you just want to have a SLPNP (sneaky little post nuptial pash) and everyone pulls out their iPhones .. there's luv in them there hills @edwina_b …. oh and @neilwrites casual 'leg-cocked, hand-in-pocket' approach to kissing proves he's got this commitment thing sorted. Good luck beating this wedding Harry and Meghan."
Did you wear a late relative's wedding dress or veil when you got married? Would you like your daughter or daughter-in-law to wear something of yours on her wedding day?