She was joined by her husband Michael Douglas who became T.E. Lawrence, as portrayed by Peter O'Toole, in the 1962 hit Lawrence Of Arabia for the event. Wearing full white and gold robes and the signature head scarf, he looked almost unrecognisable in the elaborate costume.
Meanwhile as host of the annual bash, Midler herself went all out as she reprised her title role in Hello, Dolly!, which she played in the 2017 revival of the musical. The very similar pink outfit featured a huge feather boa and giant hat, giving her one of the most dramatic looks of the night.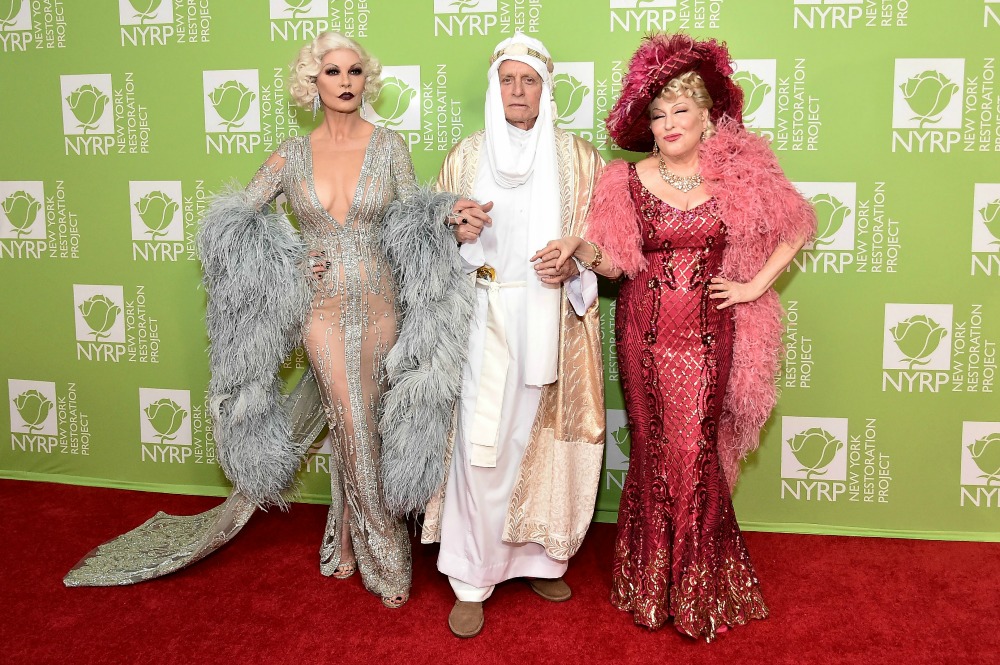 But they weren't alone when it came to turning up the heat this Halloween. Celine Dion opted for a jaw-dropping ice queen look, wearing full white body paint, white hair dye and an elaborate head piece for a stunning photoshoot.
https://www.instagram.com/p/B4TjvwOn_cc/
The singer showed off every inch of her legs in some thigh-high white socks and heels, which she coupled with a flimsy cobweb-style long top. Posing by a piano surrounded by skeletons in the background, she completely stole the show as she celebrated elsewhere.
https://www.instagram.com/p/B4Tkgj1nDMR/
Fans absolutely loved the dramatic look, with one commenting: "Omg queen," while another added: "CELINES QUEEN OF HALLOWEEN!!!!" And one wrote: "OH MY GODDDDDDD QUEEEEEEEEEEEEEEEEN"
And it comes just weeks after Celine hit back at body-shamers who have criticised her small frame, explaining in a recent interview "you can't please everybody". For the past few months concerns have been swirling around certain media outlets about the singer's size. But addressing the comments, Celine claimed their words haven't affected her and her slimmer figure is natural.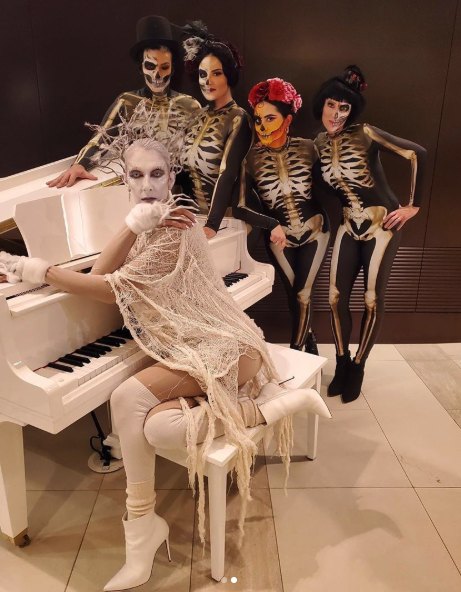 Speaking to Entertainment Tonight recently, the 51-year-old said she's always been very thin, but it's just who she is. Keeping active and healthy with ballet and stretching, Celine explained it's keeping her mind, body and soul happy, adding that she can take the criticism.
"If you don't want to be criticised you are in the wrong place," she told the television program. "I take the positive. I take what's good for me. I leave behind what is not good for me.
"I let my management take care of that and if it hurts anyone, they will take care of that. And I need to focus on what's right for me, how I feel and last, but not least, you can't please everybody."