After the chaotic year we've had so far, it might take more than a few sneaky chocolates in an advent calendar to see you through to Christmas. But luckily, Aldi has once again supplied the goods with its new boozy advent calendar that provides you with a fresh alcoholic beverage everyday until December 25.
The supermarket giant has range of advent calendars on offer as part of its regular Special Buys deals, with beer lovers and gin drinkers in particular in for a treat.
The Hoppy Christmas Beer Advent Calendar comes with 24 different beers from around the world with a new one to try every night. And for the price of $64.99, you can expect each exotic beer to cost around $2.60 each.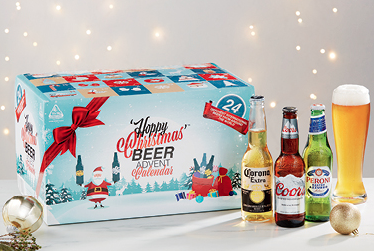 Alongside some homegrown beers, the pack also includes a number of frothy favourites from all around the world including Peroni, Amstel Beer, Tsingao Beer, Krombacher Pils, Pilsner Urquell and more.
Or, if you're someone who likes to shop local, try the 12 Days of Craftmas Pack for $39.99 and sample 12 Australian craft beers including Aussie classics, such as, Cricketers Summerale, James Squire Pale Ale and Hawkesbury Larger.
For those who prefer something a little stronger, Aldi has two gin advent calendars to tickle your fancy with the Gin Gift Pack offering 12 international premium gins for the price of $59.99, and the Gin Liqueur Pack for $49.99. Aldi's special liquor buys are available in selected NSW, ACT, VIC and WA stores only while stocks last.