Dust bunny feet on the floor
Watching the Easter Bunny hop into our lives on Easter Sunday morning is a cherished childhood memory. You can make this tradition even more thrilling for your grandkids by creating an enchanting trail of bunny footprints throughout your home. With a simple yet creative touch, you can sprinkle talcum powder on a stencil and dust it onto the floor to create a trail leading to your grandkids' bedroom doors and beyond.
Fortunately, this magical surprise requires minimal effort and leaves behind zero mess. Simply use a vacuum to sweep up the powder, leaving your floors as clean as they were before. This delightful activity is sure to bring smiles and excitement to your grandkids, making this Easter one they'll always remember.
Build Easter baskets
Why not try your hand at creating delightful baskets that will add to the excitement of the Easter egg hunt? With just a few basic supplies such as pencils, crayons, and pens, you can unleash your creative side and decorate the outside of the basket.
Once you've finished with the decorating process, it's time to cut out and assemble the basket. By filling it with a small layer of straw, you can create the perfect container for collecting Easter eggs. Your grandkids will surely be delighted by the handmade baskets, and the Easter egg hunt will be even more thrilling with the addition of these unique and personalised baskets.
This simple yet constructive task not only provides a fun way to bond with your grandkids but also helps develop their creativity and artistic abilities. So, roll up your sleeves and get ready to embark on a fun-filled Easter crafting adventure with your grandkids.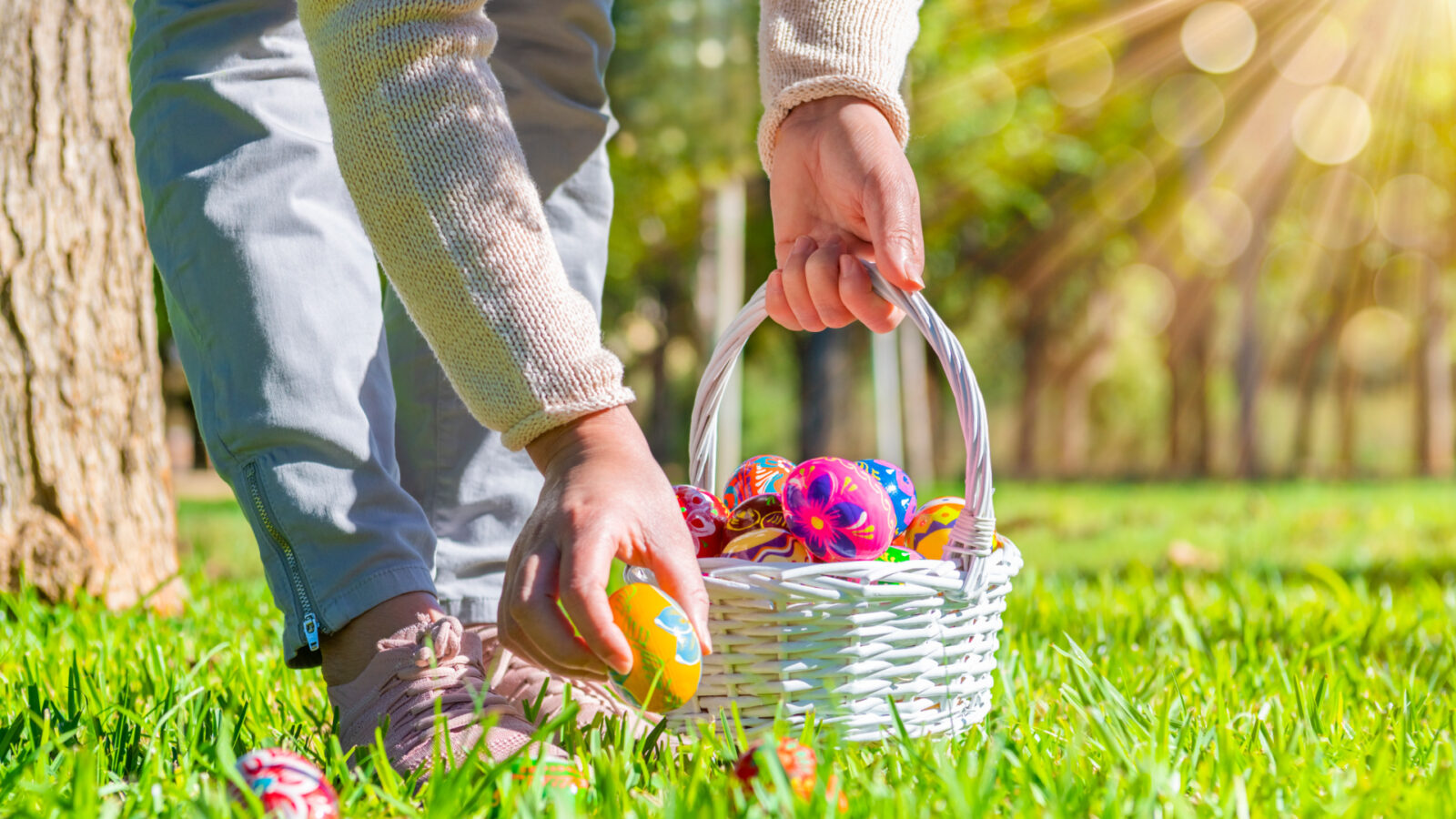 Create an Easter egg hunt
To add an extra element of fun to your Easter celebrations, consider hiding small Easter eggs around your house and garden (taking care to avoid areas with ants).
If you have young children participating who may become upset if they cannot find many eggs, you can use a helpful trick. Hold one egg of each colour in your hand and have the children take turns picking out their preferred colours until all eggs have been chosen. This way, each child will have an even amount. If there are more children than colours, consider dividing them into teams and setting a rule that the eggs found will be shared equally among all team members after the hunt.
This is a great way to ensure that everyone can have a fun and fair Easter egg hunt!
Make your own Easter eggs
Why not get creative with your grandkids this Easter by making your own Easter eggs? You can easily purchase moulds online, at a craft store, or even at a local supermarket.
The process is simple: just melt down your preferred flavor of chocolate, pour it into the moulds, and let them set in the fridge. Once they're set, you can get creative with decorating them. This activity will not only be fun for the kids but also provide them with the satisfaction of giving their parents something handmade and special for Easter.
So why not give it a try and see what delicious and unique Easter eggs you can create together?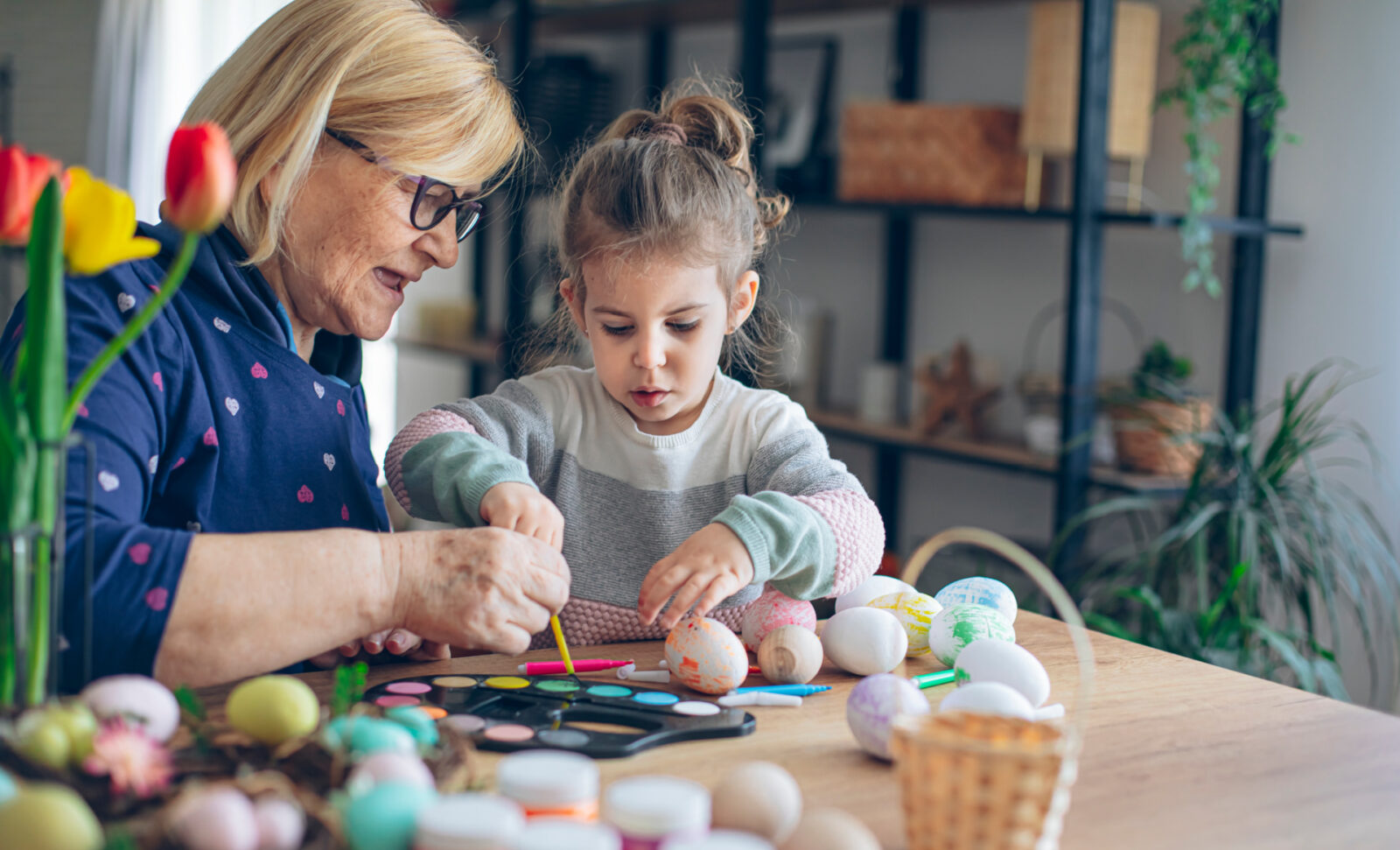 Create hand-dyed eggs
Adding some colorful hand-dyed eggs to your Easter decorations is a great way to brighten up your home, and it's surprisingly easy to do!
To avoid any unnecessary mess, consider preparing the eggs for dyeing before your grandkids arrive. One of the simplest methods is to hard-boil the eggs, which is less fragile than blowing out the insides, and add onion skin or beetroot to the water to naturally color the shells. This method is straightforward and produces beautiful results that everyone will enjoy.
Give it a go and see how you can infuse your Easter decorations with a touch of homemade charm.
Spending time with your grandkids over Easter can be a great opportunity to create lasting memories and have fun together.
From Easter egg hunts to making handcrafted decorations and gifts, there are plenty of activities you can do together that are both entertaining and meaningful.
Whether you're looking for simple activities or more involved projects, there are endless ways to enjoy this special time with your family. So, take the time to plan some fun Easter-themed activities with your grandkids and cherish the memories for years to come. Happy Easter!