https://www.instagram.com/p/ByqdHm5gxjN/
"Tonight the Prince of Wales and the Duchess of Cornwall hosted a reception for the @elephantfamily masquerade Animal Ball and joined life-size elephant sculptures in the Clarence House garden," the royal family wrote in a post on Instagram.
"Their Royal Highnesses are joint presidents of @elephant family, a charity that works to save the endangered Asian elephant from exhibition. Elephant Family was founded by The Duchess's late brother, Mark Shand."
Since it was first founded in 2002, the charity has funded over 200 projects across India, Thailand, Myanmar, Cambodia, Sumatra and Borneo with work ranging from stamping out illegal trades to restoring migratory routes.
Camilla dressed up for the special occasion wearing a pair of white flared pants, matched with long kaftan style top with gold embroidery. Meanwhile Charles looked dapper in a blue pinstripe suit, patterned blue tie and white and blue striped shirt.
Royal fans have praised the couple for their hard in helping the charity and complimented them on their sense of humour and fun at the event.
"Wonderful pictures of the Their Royal Highnesses. Love the elegance and also their humour," one person commented on Instagram.
"Masquerade fun for an important cause, love it. Happy you can enjoy tonight together too," another wrote.
While a third said: "Love this. It looks like fun and the elephants are fabulous. The cause is so important."
It has been a busy few weeks for the Duke and Duchess of Cornwall who earlier this month joined US President Donald Trump and his wife First Lady Melania Trump for dinner at the American ambassador's residence Winfield House in London.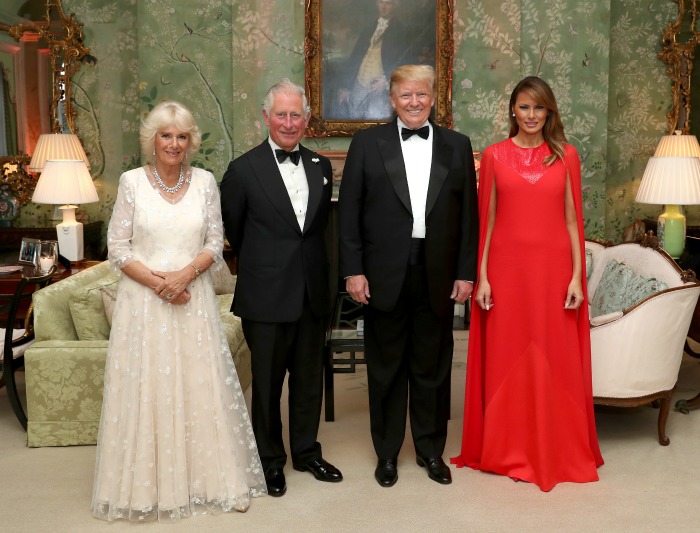 Trump hosted Charles and Camilla, along with other British figures such as Prime Minister Theresa May at the event during their visit to the UK.
Read more: Camilla looks stunning in bridal white as Melania vamps it up in red sequins
The duchess stepped out in a stunning white gown which she wore for the first time last year during a trip to Athens. The dress appeared almost bridal with its full A-line skirt, sheer sleeves and a pretty floral embroidered overlay.
Camilla, standing alongside her husband Prince Charles who donned a tuxedo for the occasion, finished her look with a statement diamond necklace and a pair of droplet earrings.
Are you a fan of Camilla and Prince Charles? What do you think of the work they do to support charitable causes?