"Every month I'm getting a hormone injection in the stomach, which stops any potential cancers from coming back," he revealed. "Some people have them once every three months but for the time being I'm keen to continue with once a month."
Along with the injections, Jono is also taking a daily capsule tablet which he said is a "new American drug" that works like the jab to stop cancer cells forming again.
https://www.instagram.com/p/BqJS0eyAAAM/
Asked how he's feeling, the TV favourite said: "I'm feeling pretty good. Everyone says, 'I can't believe you had cancer', but I think it's all about never being complacent.
"I have cancer in my body somewhere and cancer is a very nasty and horrible thing that hides. I find it very dangerous to say things like, 'I'm cancer free' because I know so many people who have said that and then five years later they find it somewhere else."
Jono only initially found out his diagnosis last year following a routine check-up with his GP, who discovered the cancer had spread to his lymph nodes, spine and bones. 
"Complacency can creep in," he added. "We all think we're perfect creatures and nothing's going to happen to us, but when you get over 50 or 60 like me, you have to have those check-ups. You don't have to be obsessed by it, just aware."
Asked if his medication makes him feel sick or groggy now, Jono explained: "It's not too bad. The thing is, after I had the radiotherapy and chemotherapy, you get used to hearing people say, 'You might want to vomit'.
https://www.instagram.com/p/Bqqj4Vvg2b4/
"I personally feel fatigue sometimes but then I'm 62, I get up at 5am and do a TV show and radio show now and again, is it because of the medication or is it my lifestyle'?"
Jono is now looking forward to spending a quiet Christmas in Sydney with his wife Margot, son Oscar and Oscar's girlfriend, while their daughter Emily spends it in England with her boyfriend.
It's a particularly happy celebration for the star, who recalled feeling "joyous" at the same time last year as he was finally given the news he'd been waiting for — that he was in remission.
"I'll be celebrating just as much this time round because I'm still free of it one year on," he explained.
Despite the incredible progress he's made since, Jono admitted that he quickly became more aware of his own mortality following the health scare – and it prompted him to start planning his own funeral.
https://www.instagram.com/p/BqgWPm1AE-v/
"Now, when a song comes on the radio, I think to myself, 'Oh, that would be good for it'!" he laughed. "We've done so many things on TV shows about the most popular songs for funerals, it's always things like 'Always Look On The Bright Side Of Life' or Louis Armstrong's 'What a Wonderful World'.
"I grew up watching Morecambe and Wise and at the end of every show they had 'Bring me Sunshine'. We had that at my mum's funeral."
Jono recalled attending Aussie media agent Harry M Miller's funeral recently and said the promoter had begun planning the memorial years before, when he was diagnosed with dementia. Miller made a list of bands, performances and even photos he wanted there, and it inspired Jono to think more about his own final farewell.
Asked if he himself is starting to do the same, Jono said: "Yes, but not as well organised as him [Miller]. I don't think I'll rent out a theatre or go to so much trouble for a huge show! You feel that feeling of vulnerability."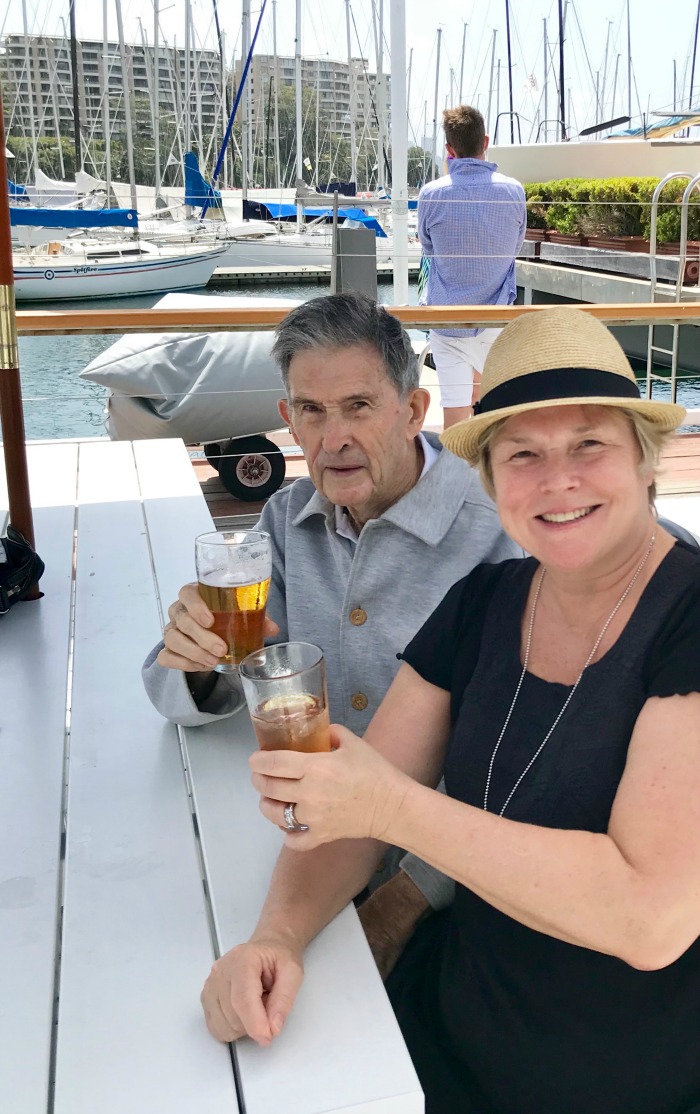 Jono said he often asks his wife Margot's opinion on his plans too, and one thing that pushed him to start thinking about it was seeing her father move into a retirement home – something Jono admitted he never wants to happen to him.
Read more: Jono Coleman reveals agonising battle to keep his hair amid cancer fight
"He's okay but it's going to come to the stage where he won't be able to drive anymore," he said of his father-in-law. "He's still fine, but you think to yourself… 'I, myself, don't want to be that person stuck in a bed or a chair all day in a retirement village, watching the TV'. Unless I was watching myself!"
Revealing exactly how he hopes to die, Jono said: "I would rather shuffle off in my sleep or in a restaurant with a menu or wine list in my hand – preferably before the bill! If I can make it to 80 or 85, I'll be very happy. Or I'd love to be sitting by the pool, down by the beach, the wind in my face."
Jono recently reunited with his former radio co-star Russ, two decades after their hit Virgin Radio Breakfast show together. The pair are now working on a new radio show in the UK, with Jono based in Sydney while Russ works from England, and they're busy recording podcasts already for their dedicated fans. Have a listen to them in action here.
Have you overcome cancer? Do you have a message for Jono Coleman?