Nicole Kidman smoulders in daring strapless number for a good cause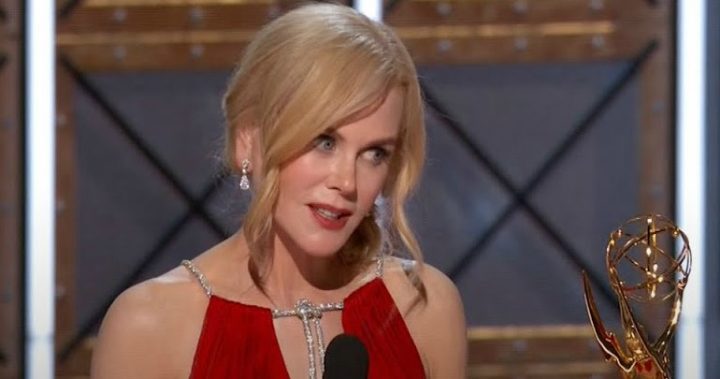 It's only fitting that following her Emmy win this week for her portrayal of a victim of domestic violence in hit television series Big Little Lies, Nicole Kidman has lent her support to a domestic violence organisation. 
Kidman has actually been involved with the non-profit for a number of years, and attended a red carpet benefit, Big Little Night, for the organisation following her big win. 
Wearing a saucy black strapless dress with an extremely low-cut bodice, Kidman smouldered on the red carpet at the event. 
She accessorised the outfit with a pair of impossibly strappy, towering heels, adding to her already-statuesque frame, and causing her to tower over anyone she was snapped with!
Ad. Article continues below.
Kidman's support of the organisation is perfect, with her award-winning portrayal of battered wife Celeste Wright in the show based on the novel by Australian author Liane Moriarty capturing hearts. 
In confronting scenes opposite Alexander Skarsgård, Kidman found herself deeply disturbed by the traumatic role where she was engaged in violence and abuse, while trying to protect her young, onscreen sons. 
Since filming, Kidman has told various publications about the very real effect the role had on her. 
Ad. Article continues below.
"It affected me more than anything I've ever done," the 50-year-old told TheFix. 
"Doing it for five months… it penetrated my psyche in really strange ways.
"That's what we do as actors. We're meant to do things that disturb us sometimes."
Did you watch Big Little Lies? What did you think of Kidman's performance?