Melania makes the most of her assets with pricey reversible dress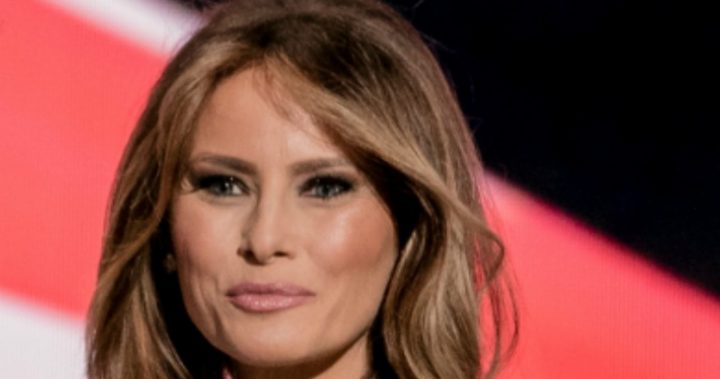 Melania Trump may have plenty of cash to splash on clothes but even the glamorous First Lady is clearly a sucker for a dress you can get plenty of wear out of.
The First Lady boarded Marine One for a trip to Camp David on Friday looking stunning in a dark green Missoni dress with a pleated skirt and embroidered neckline. The dress sells for US$1,880 ($2,370) on net-a-porter.com, which is pretty pricey, but it does do double-duty because it's reversible, so can be worn with either a plunging neckline or a more demure rounded neck.
Her green version, which she wore to put her cleavage to its best effect, is currently sold out on the popular high-end fashion site, leaving only a grey version available.
Although net-a-porter.com suggests dressing down the multi-coloured, crochet-knit frock with a pair of flat sandals, Mrs Trump stuck to her trademark spike-heeled stilettoes for the flight, this time in orange snakeskin to match the dress's waist-cinching trim.
Ad. Article continues below.
The US President and his wife were accompanied on the flight by son Barron, as well as Trump's daughter Ivanka and her family.
Footwear News noted that Ivanka had cleverly opted for a pair of her own-brand heels, called the Graffi, that retail for just US$52.
The family were heading off Friday for a weekend away, but it turned out to be a far from peaceful weekend for Trump, who raised eyebrows by pardoning controversial Arizona sheriff Joe Arpaio, who had been charged with criminal contempt for failing to follow a court order to end the practice of detaining suspected illegal immigrants.
Arpaio had as sheriff pioneered the practice of randomly stopping people to request their immigration documentation, and jailing them if they were unable to produce them. The practice was criticised as racial profiling, however, and Arpaio had been due to be sentenced in October after being convicted of continuing the practice in the face of a court order to stop.
Ad. Article continues below.
In a tweet, Trump said that the former sheriff was an "American patriot" who had "kept Arizona safe", and that he had granted him a full presidential pardon.
While the pardon was likely to be popular with Trump's supporters – a large part of his campaign for the White House was centred around immigration issues – both Democrats and Republicans criticised the move as undermining the rule of law.
University of Richmond law professor Carl Tobias told the Washington Post that the pardon was "very disturbing".
"Every federal judge in the country knows you can't have those orders violated, otherwise the federal court system won't work," Tobias said of the legal instruction Arpaio had flouted.
Have you ever had a piece of clothing that did great double-duty? What do you think of Melania Trump's look?
Ad. Article continues below.