Helen Mirren, Susan Sarandon show off very different red carpet looks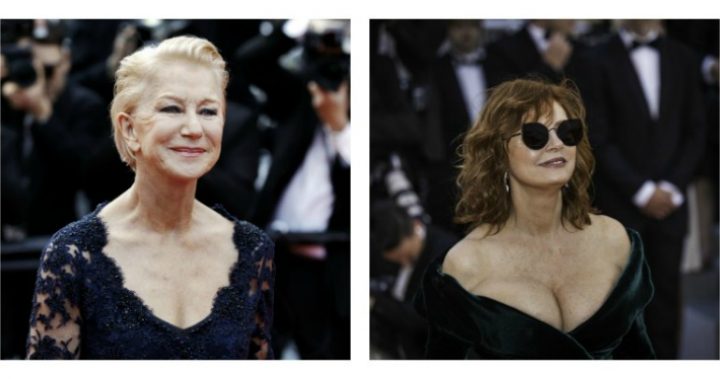 Red carpet veterans Helen Mirren and Susan Sarandon chose very different looks for the Venice Film Festival on Sunday, and their experience at choosing what suits them showed in spades.
Mirren. at the festival to promote her movie The Leisure Seeker, went for her favourite look – an ornate, embellished dress with flattering three-quarter-length sleeves and nipped-in waist. She added an element of interest with an asymmetric hemline with contrasting lining to her skirt, and finished the look off with glamorous pearl drop earrings.
The earrings worked perfectly with her shirt, slightly waved hair. No doubt expecting a long night on her feet, the star chose sensible black, closed-toe shoes with a modest heel.
The Leisure Seeker promises to be a winner with Mirren fans, pairing the actress with another long-time screen star, Donald Sutherland, as a senior couple called Ella and John who take their 1975 camper van on the road, as Sutherland's John suffers the early stages of dementia.
Embed from Getty Images
Embed from Getty Images
Ad. Article continues below.
Sarandon, meanwhile, also stuck with what she does best – a form-fitting black dress that showed off her impressive cleavage to maximum effect. She finished off the outfit with a cute ponytail, eye-catching diamond hoop earnings and a pair of classic cats-eye sunglasses.
Like Mirren, Sarandon's dress had a contrasting lining, in white rather than black, and the actress also chose a pair of low, black heels. Both women went for low-key black clutches so as not to distract attention from their frocks.
Embed from Getty Images
Embed from Getty Images
Sarandon, however, did have two other lovely 'accessories' on her arm, her two sons, Miles Robbins and Jack Henry Robbins, with ex-husband and actor Tim Robbins.
Which look do you like best?