Embrace the silver this Christmas: Great tips for stylish grey hair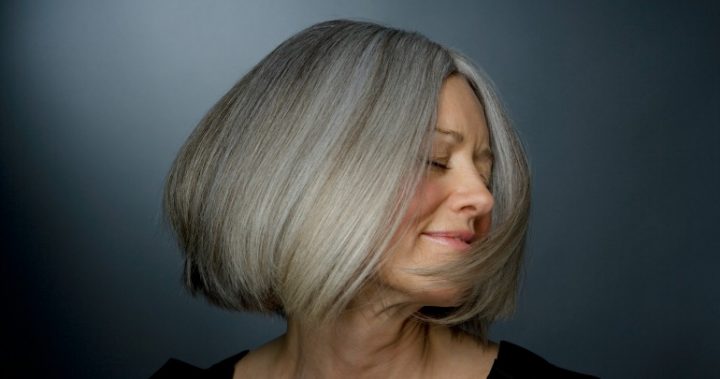 It's an inevitable part of life, but not everyone loves the effect grey hair has on their appearance.
When cells called melanocytes found at the base of each hair follicle get damaged by disease, environmental exposures, or simply age, hair will turn grey. More often than not you will find that you tend to start going grey around the same age as your mother or father did.
Julie Peacocke, salon director for Sydney's Lily Jackson Hair & Make Up salon, says that grey hair tends to be an individual experience, when it comes to the exact colour and condition.
"On some people grey hair can look amazing, that is, if the hair is cut well and the tone of grey is bright, and if the hair appears healthy and shiny," she says. "Grey hair doesn't age everyone, but for some people the appearance of grey hair can make the hair look thin and limp, and it can take away skin and eye tone, which will have the effect of ageing the person."
There are some great ways to prevent just that from happening, though. And if you want to pep up your grey hair, what better time than Christmas, when there's parties to go to and family to see, to start?
Ad. Article continues below.
Diana Lewis Jewell, founder of beauty bible site Going Gray, Looking Great, told Prevention.com: "Women often tell me why they think grey hair won't work with their eye colour or skin tone. But the fact is, for every one of those preconceived notions, there's an example to the contrary of someone who looks fabulous grey".
Read more: The real reason you've gone grey
So, if you're embracing your new colour, here are a few tips to help you style it perfectly:
Ask your hairdresser for advice
Starting the transformation to all-silver can be difficult for both men and women, particularly if you feel like you're stuck in the salt-and-pepper stage for what seems like ages, so it's worth seeking some advice on the best way to go entirely grey and feel great.
Ad. Article continues below.
Whether they suggest dyeing your roots to begin with, or allowing nature to take its course, an expert is best placed to predict how your hair will change, and choose ways to ensure it constantly looks its best.
Keep your grey hair conditioned and shiny
As hair turns grey, it tends to dry out and can frizz more than the rest of your 'do – making it stand out more than you may wish.
Use a good conditioner regularly, and ensure you use a heat protector if styling your locks, to ensure your hair's getting the nutrients and moisture it needs.
There are specific grey-hair shampoos and conditioners that can help you out here, but make sure you only use the blue-hued shampoos every few weeks, to avoid giving your hair a purple tint.
Ad. Article continues below.
A spokesperson for Elysium Hair Brisbane told Starts at 60: "Hair home care is so important when your have grey hair, or are transitioning to a natural grey look. Due to the lack of pigment, grey hair can be susceptible to colour changes and brassiness. Using a professional purple shampoo and conditioner will keep your hair looking luminous and bright!
"Purple -pigmented shampoo or conditioners work to counteract any brassiness that may arise due to minerals in the water and/or heat styling. Ensuring that you are using a heat protector when using hot styling tools is must to prevent yellowing of the hair and keep it looking soft and shiny."
Read more: Embracing grey hair
Wash it regularly
Grey hair can alter quickly depending what it absorbs from the atmosphere, so washing it regularly – usually every one to two days – is key.
Ad. Article continues below.
By keeping it clean, you can ensure pollution doesn't take its toll, or give it a brassy tinge.
Get a stylish and shorter cut
While many people suit longer hair when they go grey, it's often a safer bet to go for a chop – and it can help your transition period too.
If you're used to dyeing your hair, then cutting a large portion off can remove the coloured ends and reduce the time it takes for the rest of your hair to match up. Shorter, cropped cuts suit most silver-haired men and women too, allowing you to do more to style it, and reducing the amount of time it takes.
Lily Jackson Hair & Make Up says that the style of the cut is key.
Ad. Article continues below.
"Just because you have grey hair doesn't automatically mean that you are unfashionable or your hair will look ugly. But you do need a killer cut," the salon advises, while Elysium Hair recommends considering a fringe if you don't already have one.
"Fringes often make a woman look younger, and are a great way to add softness around the face. A long side swept fringe can do wonders for your face shape and give you a fun, flirty style!
"Think of Diane Keaton or Kris Jenner. Try pairing this with a bit of teasing at the root for added volume and finish it off with a medium-hold hairspray for perfectly tousled locks! Ask your stylist what style of fringe best suits your face shape."
Revamp your clothes and make-up
With a change in hair comes a change in your overall style, because you may need  to compensate for the loss of colour by going brighter elsewhere.
Ad. Article continues below.
Experts claim wearing more colour and adding a touch of make-up can bring back the colour you've lost, and balance your overall look perfectly.
"Now that your hair is grey—basically colourless—you must compensate for colour in other ways," Grace Ilasco, co-owner of the Color Lounge in California, told the Huffington Post. "Wear make up. It doesn't have to be the whole shebang, but a little bit of lip or cheek colour doesn't hurt."
Are you fighting against your natural grey or silver hair? Or, if you've embraced the change, how do you feel about it now?