Celebrity makeup artist reveals Joan Collins best-kept beauty tricks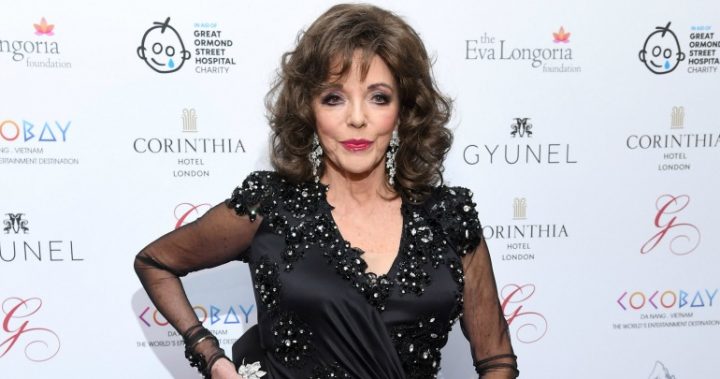 Adored actress Dame Joan Collins is known to be one of the most glamorous women in Hollywood and isn't showing any signs of slowing down at 84-years-old. Now, her makeup artist of 13 years, Alyn Waterman, has shared some of Joan's best-kept beauty secrets with The Mirror and revealed how she keeps her famous face looking taut with a few tricks of the trade. 
It's a rare day that Joan isn't seen sporting a colourful pout and according to Alyn, the beauty icon lives by the motto, "choose red when you want to impress".
"We're both believers that anyone can wear brights, no matter what their age – it's all about finding the right tone for you," Alyn says. "Joan's favourite ever red is the shade her character Helene, from 80s mini-series Sins, wore. She loved it so much she recreated it in her own beauty range."
Before applying her makeup, Alyn revealed that Joan has a simple trick, which she learnt from Allan 'Whitney' Snyder, the famous makeup artist who use to do Marilyn Monroe's makeup.
"Before doing her makeup for an event, Joan always starts by making sure she hasn't got puffy under-eyes," Alyn says. "My best tip before all events, I get a bowl of ice and cotton pads, place them on my eyes, lay down for five minutes and it works a treat," Joan told the Daily Mail, in November.
Ad. Article continues below.
According to Alyn, for a brighter look, Joan likes to apply silver eyeshadow in the middle of her eyelids and loves to boost the shape of her eyes with dramatic false eyelashes. 
Ad. Article continues below.
Sun safety is a key part of any decent beauty routine and Alyn says Joan uses foundation with multiple skincare benefits to achieve this. "She's always multi-tasking with products, because it saves time and makes skin look better in the long run. When she wears foundations, they'll also have skincare benefits, like UV filters and collagen-boosting ingredients."
He added: "Everything about Joan's make-up is focused on lifting. So, when she's doing her eye make-up, brows and concealer, she'll use upward strokes and motions." 
Alyn went on to say this helps draw the feature upwards, giving a younger, more lifted appearance. He also recommended using a magnifying mirror to help make sure foundation is properly blended and matching and said applying makeup in natural makeup is a must. 
What do you think of Joan's beauty tips? Do you have any beauty secrets or products you swear by?
Ad. Article continues below.
With Facebook removing news sites from your feeds we ask that you sign up for Starts at 60's emailers here. And to keep us on your wall, join some of our new Facebook groups and clubs:
News Junkies Club – Australia
News Junkies Club – USA 
See news on the change and links to all our other clubs and groups here.