Nicole Kidman wows in nude ensemble at premiere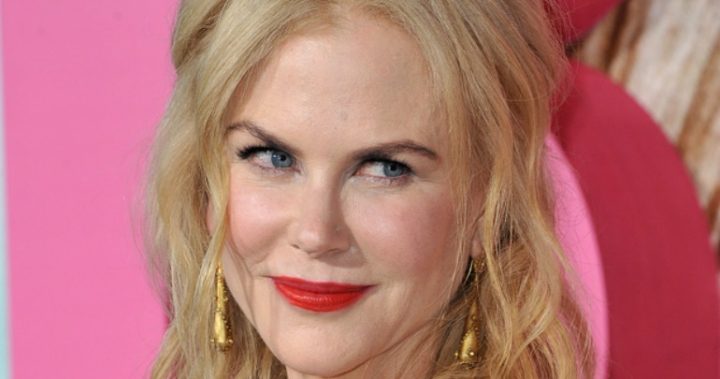 While others were more inclined to dress to suit the mood of Top of the Lake: China Girl at its premiere, Nicole Kidman looked ready to party. 
The 50-year-old actress is already earning accolades for her role as Julia Edwards in the long-awaited second season of Top of the Lake. 
While Kidman's porcelain features and trademark strawberry-blonde hair are obscured in the series, her beauty was out in force as she flaunted her figure with a Zuhair Murad dress and gold Jimmy Choo heels.
The torso of the dress sported some shockingly sheer spots, but the actress's modesty was kept intact with some cleverly-placed lace.
Ad. Article continues below.
The gown tapered out to a full tulle skirt, with more lace adding some detail and interest to the nude palette. 
With touches of tulle at the wrists and neck, Kidman looked ready for a role in a ballet. A delicate silver belt cinched in the dress without overpowering its inherent delicacy. 
The Aussie icon once again favoured natural makeup, highlighting her fair skin and youthful glow. Romantic ringlets framedKidman's face, while a dash of red lipstick drew attention to her demure smiles. 
Embed from Getty Images
Ad. Article continues below.
Alice Englert, who plays Kidman's daughter in the series, looked more inclined to stare down the cameras while Kidman and the show's co-creator Jane Campion shared a hug and blissful smiles on the red carpet, a testament to a 20-year camaraderie. 
Campion and Kidman last worked together on The Portrait of a Lady in 1996, and seemed delighted to be reunited for this new role. 
The dress might be demure, but Kidman looked powerful and elegant, striking pose after pose for the delighted photographers. 
What do you think of Nicole Kidman's latest outfit? Fashion-forward or unimpressive?