Goldie Hawn and Susan Sarandon flaunt it at Fashion Week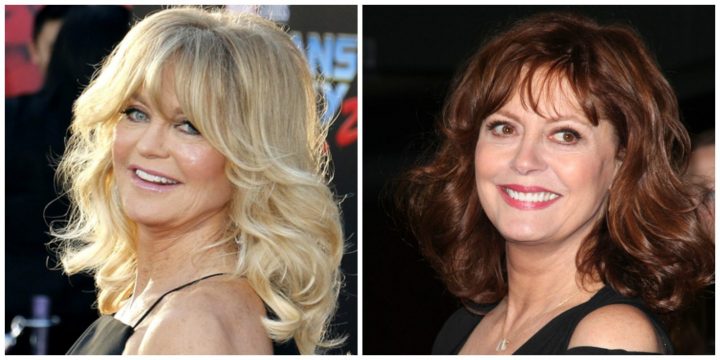 Susan Sarandon and Goldie Hawn were a double act in the 2002 movie The Banger Sisters, but they were at it again, both headed to Germany for Berlin Fashion Week.
Sarandon, age 70, looked officially glam in a top-to-toe dark power suit.
She followed up the look the next day in more casual black and white, with a large embroidered overcoat and two-tone casual flats.
Ad. Article continues below.
Both times she was spotted with a moustached man by her side.
Before you go wondering if she has found a new romance, he is Bryn Mooser, a filmmaker and humanitarian, who features with her in Generation Now, Generation Next, a fashion project by Mercedes-Benz.
Read more: Olivia de Havilland's feud over Susan Sarandon TV show.
Ad. Article continues below.
At the same time 71-year-old Hawn has made an appearance at a different Fashion Week event.
Rocking a jumpsuit, with a glam retro gold necklace, Hawn looked like she was the life of the party, as usual.
It looked like the party continued after the show, with designer Guido Maria Kretschmer chatting to the star.
Ad. Article continues below.
Hawn was even presented with this stunning bouquet of flowers at the conclusion of the show, which was originally given to the designer during the finale.
Read more: Goldie Hawn snatches the limelight in colourful copycat style.
Do you love what they are wearing?