Deborra Lee-Furness rocks red carpet in wild outfit with Hugh
Deborra Lee-Furness knows how to get heads turning and the Aussie actress and producer didn't disappoint in the style department at the premier of her husband's new film in New York on Friday.
Lee-Furness, 62, joined husband Hugh Jackman, 49, on the red carpet at the event and while Jackman played it safe in a grey suit and red tie, his wife was doing none of the sort.
Lee-Furness rocked the red carpet in a black dress with a fluffy hot pink fur trim around the hem.
She wore her signature platform black shoes and fought off the icy New York temperatures with a pair of think, black tights.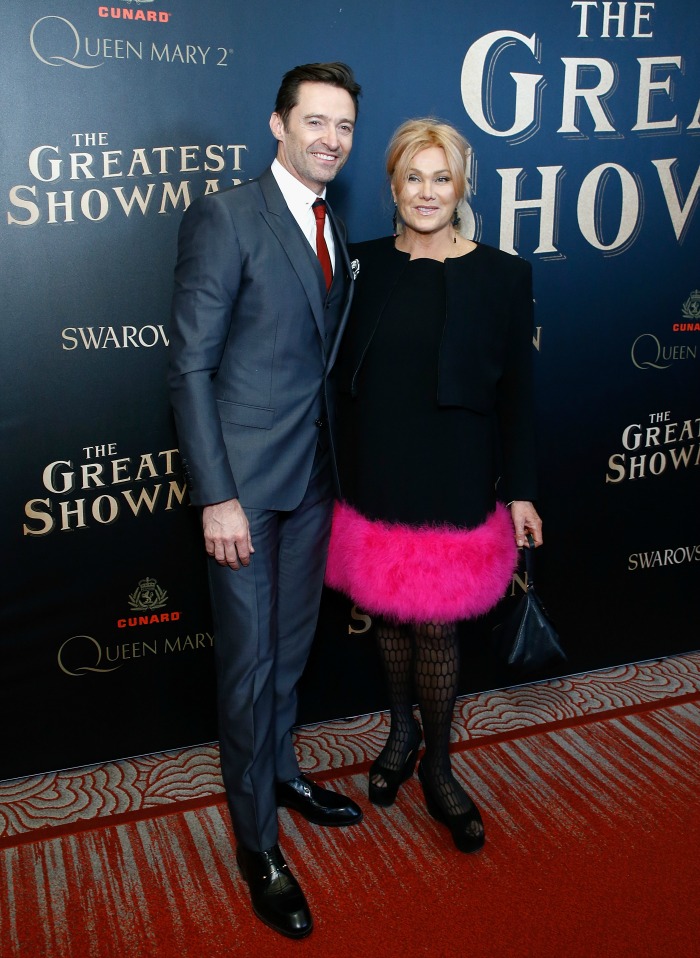 Jackman's new movie, The Greatest Showman, tells the story of P. T. Barnum, the man who started the Barnum & Bailey Circus in the early 20th century.
The actor took to Instagram after the premier to share a photo on himself and Lee-Furness.
"Last night, on the way to the @greatestshowman world premiere, with my love," he wrote.
Ad. Article continues below.
It's been a busy year for Jackman and Lee-Furness, who celebrated their 21st wedding anniversary in April.
The couple, who have two adopted children, seem to be stronger than ever though, with Jackman singing his wife's praises back in June.
"I'm married to the greatest woman alive," he told British talk show Lorraine. "She's amazing. We're best friends, and we share everything. She's smart.
Ad. Article continues below.
"We always said we'd never spend more than 2 weeks apart. Sometimes life and work does get crazy.
"But we met on my first job when she was already a big star, I was a nobody. So we have shared everything, all the ups and downs, and always will."
Do you like Jackman's movies? What do you think of Lee-Furness' wild dress?