'I love sprouts!' Ita Buttrose puts 'feud' with Denise Drysdale behind her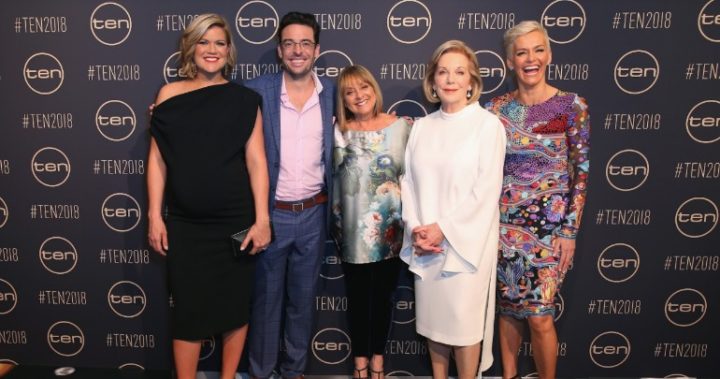 They were rumoured to have fallen out over an incident with a bowl of Brussels sprouts, and now Ita Buttrose has opened up on her apparent "feud" with Denise Drysdale, in an exclusive interview with Fairfax Media.
TV star Drysdale recently confirmed she had been forced to apologise to her co-host, after she got a little tipsy on the day of the Studio 10 Christmas party last year and threw the vegetables at her.
And while Buttrose has kept a dignified silence throughout, she has now dismissed rumours of a "feud". She did make it clear "it wasn't one sprout, it was a bowl" however, and told Fairfax Media it was just something that happened – and it could happen to any "family".
Despite claims the pair had fallen out and were no longer speaking, Buttrose insisted there was no feud, and showing she's kept her humour intact throughout, she reportedly joked: "I love Brussels sprouts, especially when you sprinkle them with nutmeg but unfortunately the ones that were involved did not have nutmeg on."
Read more: 'I did the wrong thing': Denise Drysdale apologises to Ita Buttrose
Ad. Article continues below.
It comes after Drysdale blamed the bizarre behaviour on her having one too many drinks at the bash, and told the Herald Sun a few weeks ago that they had since made up.
"I threw the brussels sprout at her (Ita) — I have to admit that — at the Christmas party and I did the wrong thing, so it is totally my fault," Drysdale said at the time.
"I was in a jovial mood. The (official Studio 10) Christmas party was that night and I could not go, so I had a couple of glasses of champagne ­towards the end of the day and I threw the brussels sprout and I shouldn't have."
The two women have worked together on Studio 10 since Drysdale joined panel as a series regular in 2016. Buttrose has been with the show since its 2013 inception.
Drysdale became a household name in the 1960s for her comedic appearances on Graham Kennedy's In Melbourne Tonight as a go-go dancer and singer. She later joined The Ernie Sigley Show and won the TV Week Logie for Most Popular Female personality on Australian TV.
Buttrose, meanwhile, earned her reputation in the '70s as one of Australia's fiercest for her pioneering work on Cleo magazine. She went on to edit The Australian Women's Weekly, The Daily Telegraph and The Sunday Telegraph, and the first woman director of News Limited.
Do you watch Studio 10? Are you a fan of both of these women?