'I did the wrong thing': Denise Drysdale apologises to Ita Buttrose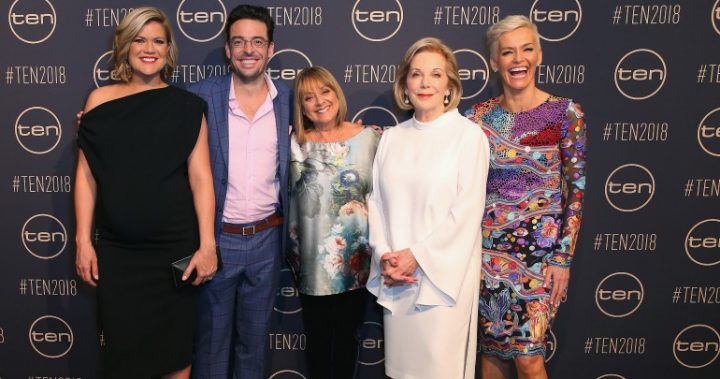 Denise Drysdale has addressed the apparent fued between herself and Ita Buttrose, admitting she apologised to the Aussie media darling over an incident at Christmas.
Speaking with the Herald Sun, Drysdale confirmed their had been tension between the pair after she got a little tipsy on the day of the Studio 10 Christmas party last year and threw Brussels spouts at Buttrose.
"I threw the brussels sprout at her (Ita) — I have to admit that — at the Christmas party and I did the wrong thing, so it is totally my fault," Drysdale said.
"I was in a jovial mood. The (official Studio 10) Christmas party was that night and I could not go, so I had a couple of glasses of champagne ­towards the end of the day and I threw the brussels sprout and I shouldn't have."
She said they had since made up and there was no longer an issue.
Ad. Article continues below.
Last week, multiple media outlets reported the pair weren't speaking over the incident and that Studio 10 was forced to rearrange the seating plan on the show's panel so the co-hosts were not longer sitting next to each other.
Drysdale has denied the seating shuffle had anything to do with their rift.
The two women have worked together on Studio 10 since Drysdale joined panel as a series regular in 2016. Buttrose has been with the show since its 2013 inception.
Drysdale public apology comes after Buttrose rubbished claims of tension between them.
"There's no feud, it's rubbish," she told The Kyle & Jackie O Show on Wednesday. "Well, as Donald Trump would say it's fake news! We all get on well. I mean we've been getting on well ever since we all started.
Ad. Article continues below.
"I don't know where all this nonsense is coming from, it's just someone beefing up something that happened last year."
Drysdale became a household name in the 1960s for her comedic appearances on Graham Kennedy's In Melbourne Tonight as a go-go dancer and singer. She later joined The Ernie Sigley Show and won the TV Week Logie for Most Popular Female personality on Australian TV.
Buttrose, meanwhile, earned her reputation in the '70s as one of Australia's fiercest for her pioneering work on Cleo magazine. She went on to edit The Australian Women's Weekly, The Daily Telegraph and The Sunday Telegraph, and the first woman director of News Limited.
Do you watch Studio 10? Are you a fan of both of these women?