Sad snap shows Carrie Fisher's beloved dog still misses his 'mother'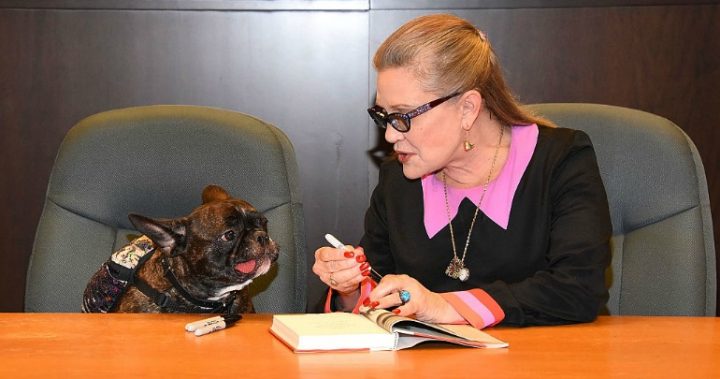 History is filled with stories of faithful dogs remaining by the graveside of their beloved owners, and Gary, Carrie Fisher's 'best friend', is no different.
His new owner, the late Fisher's assistant Corby McCoin, apparently posted a snap on Gary's own Instagram account – yes, the dog really does have one, as we'll explain below – watching a TV screen intently as Fisher appear in a trailer for the upcoming Star Wars movie.
"Just watched the new trailer of The Last Jedi and my mom looks more beautiful than ever," the picture's caption says. 
Ad. Article continues below.
Gary is somewhat of an Instagram celebrity himself, with 147,000 followers, and an account loaded with photographs of the French bulldog with Fisher before her death in late December.
He went everywhere with the star, including to autograph signing sessions and restaurants, and slept on her bed.
The actress had spoken in the past about how the young dog helped calm the symptoms of her bi-polar disorder. 
Ad. Article continues below.
"Gary is like my heart," she said of the then-one-year-old to The Herald Tribune in 2015. "Gary is very devoted to me and that calms me down. He's anxious when he's away from me."
The latest installation in the Star Wars franchise, called Star Wars: The Last Jedi, saw Fisher reprise her role of Princess Leia. She completed filming on The Last Jedi in the months before her death, and the film will show her appearing alongside her original castmate Mark Hamill, who plays an aged Luke Skywalker.
Spoiler alert – look away now if you haven't seen The Force Awakens!
Ad. Article continues below.
Han Solo, played by Harrison Ford, dies in the first of the recent reboots, The Force Awakens.
The Last Jedi will screen around the world from December 13-15.
Gary, meanwhile, was reportedly with the actress when she suffered a cardiac arrest on board a flight in December and remained with her at hospital for the four days before she died. He had been adopted by the late actress' assistant after Fisher's death, People reported.
Have you had a faithful companion like Carrie Fisher's Gary?