Hilarious Air New Zealand Christmas video goes viral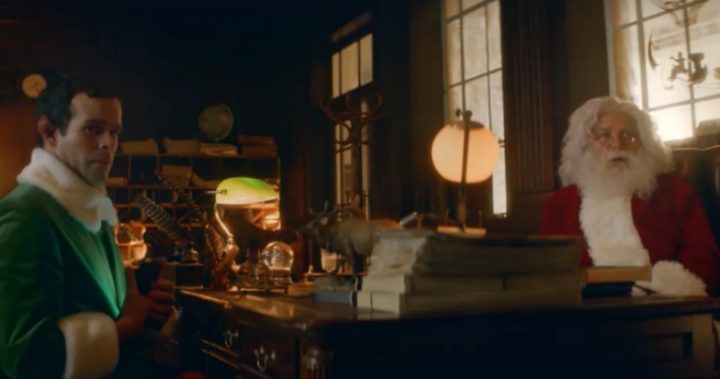 With Christmas just around the corner, Air New Zealand has sent social media into a frenzy with their new Xmas video.
The airline, who has made headlines several times for their clever and witty safety videos, does it again with their latest clip.
Full of festive cheer, the video pokes fun at the Kiwi accent.
If you've ever come across an Aussie, chances are they'll make fun of the way a New Zealander says "six" or "fish and chips".
Ad. Article continues below.
Air New Zealand seems to play on this banter in their latest offering.
Set in the North Pole, Santa Claus can be seen busily taking toy requests from children around the world.
Read more: Hilarious New Zealand police recruitment video goes viral
"A teddy bear for Ling Ling from Shanghai," he says after taking a call from China.
When it comes time to take a call from New Zealand, the big man in red and his elf look petrified and avoid picking up the phone.
Ad. Article continues below.
A small child named Adam puts his request in, but Santa has trouble understanding his accent.
The boy requests a new bed, but Santa mishears it for a new beard.
Another child requests a "puggy bank", while a boy named "Bin" requests a "biscuit ball".
If you try saying the above in a Kiwi accent, you'll realise it's actually a piggy bank and a basketball for Ben.
Other requests include a "book of magic trucks", "a bug screen TV" and "an ear plane".
Ad. Article continues below.
The clip ends with Father Christmas calling on the staff from Air New Zealand to help him translate the requests from the children.
One of the flight attendants explains that the letter A sounds like an E, the letter E is pronounced like the letter I, the letter I is actually U and Os are Os."
The clip has already been viewed 1.2 million times on Facebook – not bad considering the population of New Zealand is just 4.7 million people.
Fans have praised the funny video on social media.
One person wrote: "Apparently even after 34 years living away from NZ, I would never order a deck for my home. A patio yes, a veranda yes. Never a deck. Playing cards brings it's own perils."
Ad. Article continues below.
Another added: "Too clever for words, just love it. Also love New Zealanders, they don't talk funny … they are the nicest people to travel with. GREAT ad, Air New Zealand."
A third message read: "Mirry Christmus to the lovely kiwis in my life, I'm just jealous your airline ads trump ours hands down! [sic]"
What do you think of the video? Did it make you laugh?