Hilarious New Zealand police recruitment video goes viral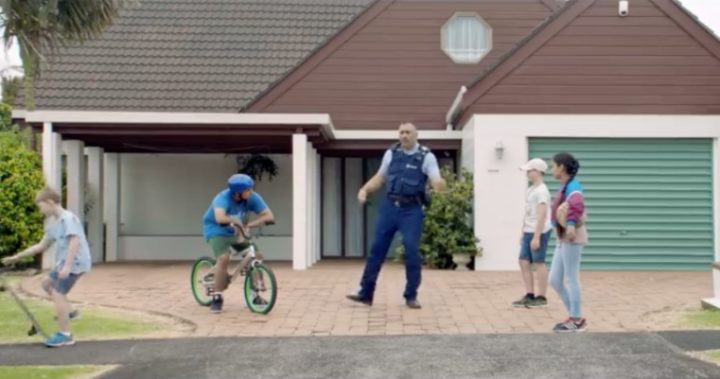 You've got to hand it to the Kiwis. They certainly know how to make boring subject matters entertaining.
The world has been treated to an array of outrageous commercials from New Zealand in the past, but this time it's New Zealand's Police Recruitment that has upped the ante with their video.
In what they have described as "the world's most entertaining recruitment video yet" NZ Police are clearly hoping their hilarious clip will encourage people to join their force.
The video was released on Facebook on Sunday and has already been viewed over 1.6 million times.
It lasts for just two-and-a-half minutes but is full of jokes and action.
Ad. Article continues below.
According to NZ Herald, it features over 70 staff including Commissioner Mike Bush.
"New Zealand Police are striving to increase our overall staff numbers over the next three years to meet our objective of being the safest country, and to deliver on the Government's signalled staffing increase," Bush said.
He added that the clip was designed in a way to attract a wider range of applicants including women, Pacific Islanders, Māori and people from a range of backgrounds and ethnicities.
The clip starts with dramatic bagpipes playing and a number of officers sneaking into a warehouse to crack a case.
Ad. Article continues below.
It then becomes apparent that a bunch of Scottish people are actually playing the instruments when one of the officers tells them to be quiet.
It sets the tone for the rest of the clip.
Another scene shows an officer helping an elderly man cross the road while a random man pulls out a boom box and starts hilariously dancing – much to the entertainment of a waiting driver.
A further one shows a grizzly police dog turning into a timid cat during a pursuit.
At the time of publication, close to 6,000 people had left comments on the video and it had been shared over 27,600 times. 
Ad. Article continues below.
Most of the comments were people tagging their friends and family to notify them of the hilarious video.
Others congratulated the team behind the clip.
One person wrote: "Love this! Great sense of humour."
Another comment read: "omg I keep bursting into laughter tears at work. I can't even handle this."
A third added: "If it wasn't for the police we'd be screwed! Thanks guys for doing an awesome job of keeping us safe in nz. Great vid."
Ad. Article continues below.
While the video has done a great job of entertaining the masses, it's also had a significant impact on interest for joining the force.
According to news.com.au, the New Cops website had seen a dramatic increase of traffic.
"At 9am today there had been an 800 per cent increase in traffic to the New Cops website since the launch of the video," Bush said.
"As well as this, 333 full profiles have been created by people interested in joining us.
What do you think of the video? Should Australia air more commercials like this to get people motivated?