Bert Newton looks happy and healthy as he sings to grandson in video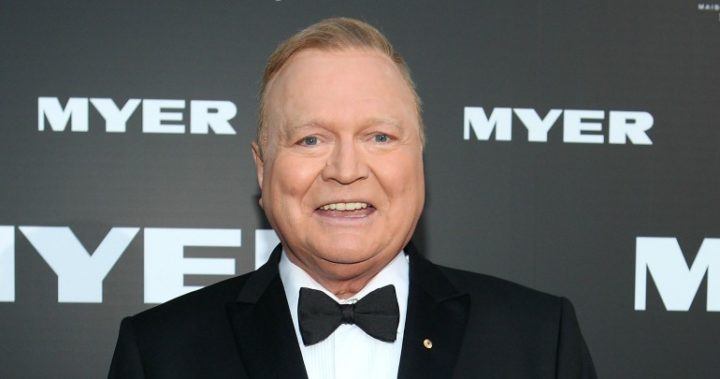 Bert Newton has openly discussed his past health battles, and was rumoured to have faced another one over the Christmas period – but he appears to be fighting fit and healthy once again now.
The poplar Aussie entertainer, 79, proved he still has his usual winning charm as he sung 'Happy Birthday' to his grandson in a sweet video, shared by his loving wife Patti.
In it, he's shaved his hair off completely and is sat with his grandson on his knee, beaming at the camera and laughing throughout. Wearing a multi-coloured shirt, he even kept with his usual flamboyant style.
While his grandson didn't look too impressed with the affectionate song, the star's fans loved it. One commented: "Awwww Bertie!! Sending all my love to you, Patti, and your beautiful family! Xox."
Ad. Article continues below.
Another added: "So beautiful you and Monty looks like a fun filled day for you all, and you're looking good Bert," and one wrote: "The best!"
It comes after reports in Woman's Day that the former Good Morning Australia host battled "a severe case of shingles" over Christmas – although the claims were never confirmed.
Read more: Bert Newton finally released from hospital
Meanwhile, he was treated for pneumonia and anaemia in hospital last May, but recovered well at the time. Speaking afterwards, he joked: "The dandruff is gone and the ingrown toenail is looking much better, so everything's fine".
Ad. Article continues below.
He explained how he was given 'quite a bit of blood' and iron, and every inch of his body was looked at. 
"Pneumonia is not a very nice thing," Bert said, explaining it was the third time he'd had it, but he was confident the doctors were giving him a clean bill of health. "I know they wouldn't let me go unless I was ready to go… when I say ready to go I mean home, not beyond."
Wife Patty picked him up from the hospital and said it was great to have him back and they'd had lots of support with people wishing them well. "We thank all of those people," Patty said.
He went on to celebrate his birthday shortly after, and chatted with radio hosts Phil Brady and Simon Owens on 3AW. The TV star said he enjoyed his third surprise party at the time, but his happiest birthday was a surprise when he turned 49.
Read more: Bert Newton honoured with birthday surprise
Ad. Article continues below.
"I didn't have a clue," Newton said. "Minding my own business when 50 people descended up on our home. It was a wonderful night, particularly looking back, as half the guest are no longer with us."
With an occasional cough as he spoke, he went on to talk about the early days in his career, lamenting the lack of live television and variety shows, such as the one he was host of for many years.
Are you a fan of his? What's your favourite memory of the star's career?