Meryl Streep stuns in Japanese-inspired sheer dress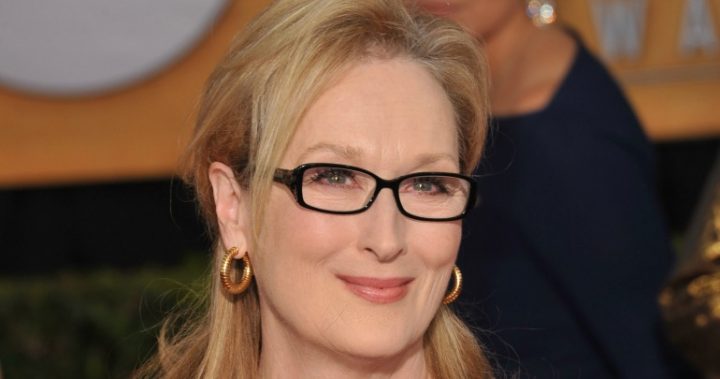 It's been a while since we've heard from Meryl Streep but every time she stays low key, she always resurfaces in the most glamorous ways. This time, Streep showed up in Japan to attend the 29th Tokyo International Film Festival and may we say, she did not disappoint. Japanese Prime Minster Shinzo Abe appeared to be star-struck when he met Streep on the red carpet. "This red carpet is a lot more exciting than the red carpet at the parliament building," said Prime Minister Abe, who admitted to having watched many of Streep's films. "I'm feeling very excited, and it's sinking in that the Tokyo International Film Festival has finally kicked off."
Abe said he particularly enjoyed Streep's portrayal of British Prime Minister Margaret Thatcher in "The Iron Lady" a film which he said "left a very deep impression on me", and for which Streep won the Academy Award for Best Actress in 2012.
The 67-year-old actress wore a beautiful, delicate chiffon dress in a Japanese-inspired print. Underneath the sheer dress, Streep wore a knee-length black slip.
Arriving in style! Look at how high those heels are. Streep looks absolutely stunning.
Ad. Article continues below.
The beautiful Japanese print featuring a crane, runs all the way to the back like a painting. In Japan, the crane is known as the tanchōzuru and is said to live for 1,000 years. It can be seen in many Japanese designs.
The 'Devil Wears Prada' star played with black, silver, gold and grey for her accessories. She wore black high heels, carried a gold box clutch and finished off her classy look with Victorian-inspired earrings and ring. Streep had her hair up, allowing for her beautiful earrings to steal the spotlight. Her makeup was kept natural-looking with minimal blusher and very soft pink lipstick. For this look, less is definitely more.
Do you like Meryl Streep's style?