Dr Malcolm Linsell is anything but "An Ordinary Man"
As I began this review I must say that because I already knew a little of its author and his work, I considered I should take the author to task. Dr Malcolm Linsell gave his autobiography the title An Ordinary Man, an extraordinary life but it sounds to sell him short.
As I read on I understood his reasoning behind the book's name, and it is far more than a case of simple modesty. The term, 'an ordinary man', directly relates to his financially straitened origins as the son of Salvation Army officers and, through his use of the term, he extols others to become high achievers no matter their station.
This is a story about a brilliant plastic surgeon – practitioner of the 'Surgery of Self Esteem' as he puts it – but one who may have been more than a little fortunate to take it up as a career. When a toddler, his mother left the kitchen briefly. Malcolm climbed on a chair and placed his hands on a hot stove top. His palms suffered full thickness burns, leaving painful scars that persist to this day.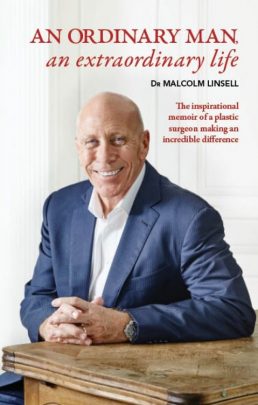 The name Malcolm Linsell will be familiar to a great number of readers. He was the surgeon who performed a series of the most heartrending operations ever on a boy named Wesley Koni from the highlands of Papua New Guinea. Wesley was unwell and his mother had set a fire in the middle of their hut to keep him warm. While she tended to another child, Wesley rolled out of bed and into the fire, receiving dreadful burns to his head, face and hands. The surgeon learned about Wesley, his head now fused at right angles to his chest. An appeal through the Salvation Army congregation at Cranbourne brought Wesley to Melbourne.
Discussions were held and decisions made by a specialised medical team. One Saturday morning, with a 60 Minutes crew there ready to film, the first three-hour operation was performed. In days to come, although the operation was a success, a special splint had to be manufactured to lift and hold Wesley's head. His neck at that time didn't have the strength to support its weight. That they succeeded in giving a small highlands native boy a life was well documented at the time and is a great tribute to all involved.
Ad. Article continues below.
Life is never simple and this brilliant man, as it is with most of us, has had a few curve balls thrown at him. I enjoy his method of tackling barriers head on rather than attempting to sidestep them, something he learned during his teen years when he lied to his father and was found out. Although a great deal of this man's life and work is already known, I strongly urge readers to get his book to add to their reading list.
I might have erred a second time as I began to read. Autobiographies can be a bit egocentric sometimes but, within the first few pages of An Ordinary Man, I realised this was not the case. His story is frank and forthright and told with great good humour. An example:
Early in the book, Malcolm relates the matter of  his burnt hands. Scar tissue is inelastic, unable to stretch. By the time he was 13 and shooting up in the world, he needed an operation to release the burn scar on his right hand. A full thickness graft 4cm x 3cm was taken from his groin and carefully sewn into his hand. "One slight drawback is that full thickness skin carries hair follicles… as I got older, (it) began to grow hair. I am grateful when jokes about growing hair in the palm of the hand are kept to a minimum!"
An Ordinary Man, an extraordinary life, by Dr Malcolm Linsell, has now taken its place in my library. It is available from Dymocks.


Join Books at 60 on Facebook, or sign up for our weekly newsletter below for more great reading recommendations!