Outrage over Stevie Nicks' guitarist with child porn history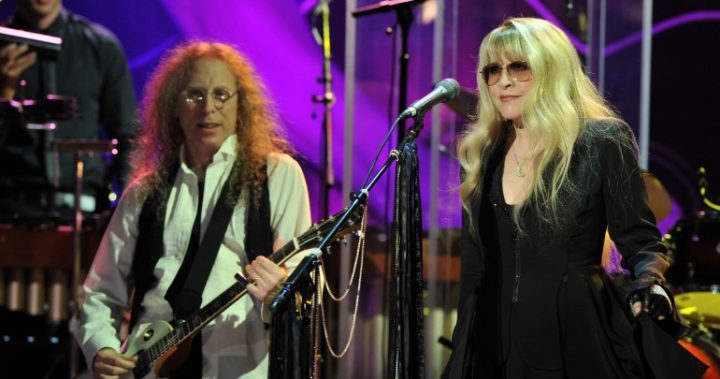 She's often been referred to as one of the most controversial rockers of her time but it's Stevie Nicks' choice of guitarist that is causing raised eyebrows this time.
The 69-year-old singer is currently in Australia with her 24 Karat Gold tour but fans are outraged that she's chosen Robert 'Waddy"' Wachtel as a guitarist because he's previously been charged with possessing child pornography.
There are calls for Nicks to reconsider using Wachtel for the rest of her Aussie tour, with many asking why he was allowed to enter the country in the first place.
The charges were laid in 1998, after the then-52-year-old was arrested at his Los Angeles home, along with his wife.
Read more: Stevie Nicks reveals why she was almost banned from Australia forever
Ad. Article continues below.
MTV reports that inappropriate material found on a computer Wachtel had taken in for repair. Printed copies of some of the pornographic images were also discovered in his home, leading to Wachtel being charged with both possession and duplication of child porn.
The rocker eventually pleaded no contest to the charges. Pleading no contest basically means that a defendant doesn't admit or dispute the charges against them, but accepts the punishment handed down to them.
Now 70, the famous guitarist was placed on probation for three years following his charges and was freely allowed to enter Australia earlier this month for the tour.
According to the Los Angeles Times, he was also forced to make a $2,500 donation to the Children of the Night charity at the time and underwent six months' counselling as a result of the incident.
Along with Nicks and the rest of the band, Wachtel has already played a string of shows across Australia and New Zealand.
Ad. Article continues below.
But fns were questioning why Aussie officials let Wachtel enter the country, given the nature of his charges.
One person on Twitter : "Stevie Nicks was amazing last night at Hunter Valley. But how was lead guitarist Waddy Wachtel, convicted 1998 of possessing child porn, allowed in the country?"
Another comment read: "Deport him now."
A third person added: "He's been in the country many times since 1998."
Speaking to Music Feeds, the Department of Immigration and Border Protection said it couldn't comment on individual cases but that it assesses all people before they enter the country.
Ad. Article continues below.
"There are strong provisions under the Act to refuse or cancel a visa when a person is found not to be of good character," the department reportedly said. "Each case is assessed rigorously by the Department on its own merits."
The news comes after Nicks herself recently revealed that she was nearly banned from entering Australia in 1986 for breaching her tourist visa conditions.
Was Border Protection right in letting Waddy Wachtel enter the country?