My husband had employed an amah (a nursemaid) and a gardener. Hewia, our amah, became a substitute grandmother for our children, and Nasi was my faithful second hand. They just loved playing with the children.
I found shopping a challenge. My first experience was at a supermarket of sort, though it had no food to buy. I found a can of sardines and some wax paper.
Seeing as I was out of my depth, Hewia came into her own. Baskets in hand, she took me to the local market. Imagine my surprise! I'd wanted a chicken, but there were none to be found … Or so I thought. This was nothing like 'home'. Hewia led me to the back of the market where chickens clucked in cages. She grabbed one for me and right there the seller cut off its head. I was stunned. We purchased strange looking vegetables, unlike anything I'd ever seen before. Milk came in a can, as there was no fresh dairy.
Elsa an English school teacher had a small nursery school under her home. My children attended and found new friends. They had a wonderful experience learning the basics.
Later I became teacher, mother, nurse and everything else that women in those days were expected to do. School was set up in a guest wing of our home. Distance education from Perth, Western Australia became my lifeline. It was an amazing program for those of us living in remote areas.
The children excelled. One-on-one teaching was a great benefit, although it was trying at times. I soon fell in love with my new life in Borneo.
Our introduction to our social world was the Sandakan Yacht Club. This became our second home, what with my husband and I both being avid sailors. We were keen to be involved.
Our children ran free, swam in the ocean and made lifelong friends playing in the sandy shores. At the time there were three other expat families with children living in Sandakan. Our friends were from all walks of life though.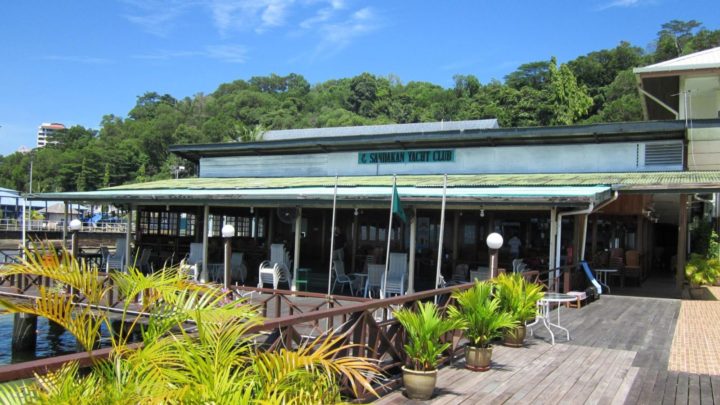 Behalla Island and Turtle Island was where we retreated to at the weekend. We climb into small boats and head off with friends to days filled with sunshine and laughter.
Our now lifelong friends became family. Our children created a language of their own, a mix of Malay, Japanese, Chinese and English.
In those days Sandakan was a logging town. I watched the rainforest culled to make way for the palm oil industry. It now covers miles of what was once habitat for the local jungle animals. I know first-hand the devastation that was caused by these early settlers.
The Sepilok Orangutan Rehabilitation Centre was founded in 1964 and in those early days it was a simple tin shed used as an infirmary for sick animals. I remember a concrete building where the orphaned baby orangutans were kept. I spent a lot of time here in during the years we lived in Sandakan.
Unfortunately, it has become something of a tourist destination today, but back when I was involved the vision and hope was to buy more forest for orangutans and other species of animals that were struggling with the destruction of their forest.
I was also involved in the medical services in the area. It was a sort of flying doctor, visiting outlying villages by helicopter. I'll never forget flying over the jungle, landing in a clearing and being greeted by huge smiles and warm welcomes of the village people. My role was to help educate the women in the care of their babies. Many of the babies were dying with heat stress because it was a belief that to treat a fever one must be wrapped.
I'd often have to explain that no clothes and a cool bath was the best method of bringing the child's temperature down. It was a concept completely opposite to what they believed, but the mothers soon adopted this approach and were overjoyed when their babies recovered.
My children grew healthy and strong on naturally grown vegetables, fish from the sea, chicken raised without hormones. There was no processed food, as everything was made in the kitchen by Hewia from either our garden or the local market. Eggs came from our chickens and pet ducks.
Sandakan is famous for the death marches that took place during World War II. These forced marches from Sandakan to Ranau resulted in the deaths of almost 2,500 Allied prisoners of war. It was a horrific time in the lives of these peace-loving people.
You can't erase history, but today the place is so different. There have been huge expanses of buildings constructed in every direction. It has a modern airport, no more tin shed. I wouldn't live there today though, it's not exactly safe.
When I left after living there for seven years, it was one of the saddest days of my life. I've returned several times and it's a great joy when I visit. I think part of my heart remains there … However, I know that the times have changed and the days where community bonded, regardless of culture or creed, are no more. Animals like the orangutans, elephants and hornbills are losing their homes to the palm oil trade. Villagers fight against huge companies greedy for their land.
I only have the memories of how blessed I was, my children were, to have lived and learned about Borneo in simpler times.
Keen to share your thoughts with other 60-pluses? You can sign up as a contributor and submit your stories to Starts at 60. While you're at it, why not join the Starts at 60 Bloggers Club here to talk to other writers in the Starts at 60 community and learn more about how to write for Starts at 60. Community blogs published on the website go into the draw for some great weekly prizes.