The audience could be heard gasping in shock at this point. Kyrgios then packed up his belonging, shook hands with Rudd and the chair umpire and stormed off the court.
Kyrgios will lose US $33,635 (AUD $48,200) for the incident, will be fined 45 ATP points and may be subjected to further punishment and investigation. He took to social media to address his behaviour.
"Very eventful day to say to the least," the world No. 33 wrote on Instagram. "Emotions got the better of me and I just wanted to say that the atmosphere was crazy out there today, just super unfortunate that it had to end in a default."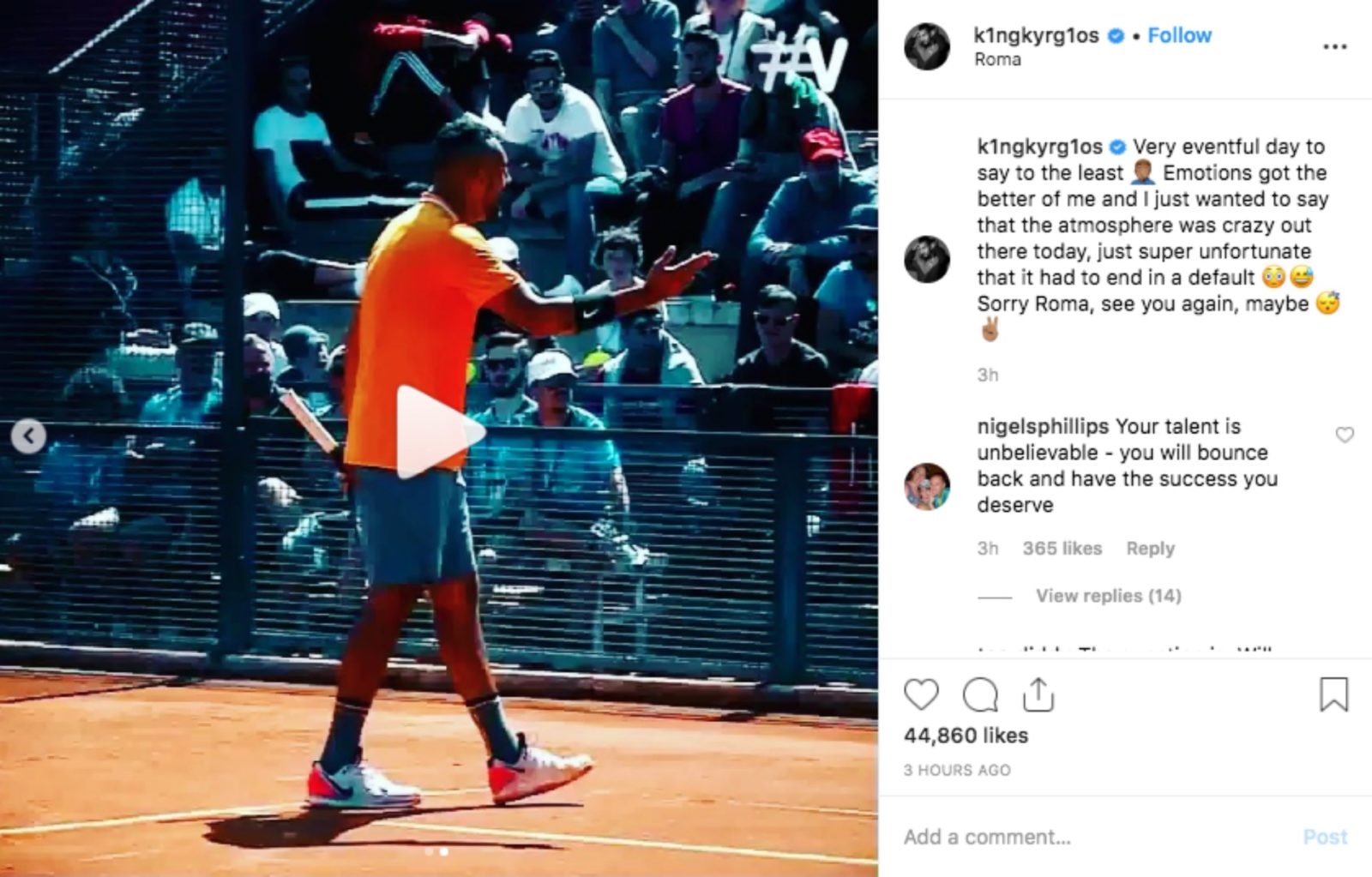 It's not the first tantrum he's thrown in recent times. After being spectacularly defeated by Philip Kohlschreiber at the BNP Paribas Open at Indian Wells in March, Kyrgios smashed his racquet in front of a packed arena.
Read more: Nick Kyrgios smashes racquet and throws shoes at crowd in bitter spat
During a 50-minute interview for the No Challenges Remaining podcast, the star said he had no respect for Nadal. He added that while Djokovic was an "unbelievable player", there was no way the "cringeworthy" player would surpass the talented Roger Federer.
Taking major aim at Djokovic, Kyrgios claimed he gets frustrated with the world number one for apparently wanting to be just like Federer. Kyrgios said despite his obvious talent, Djokovic will never be considered the greatest player in his mind.
Read more: Nick Kyrgios slams Rafael Nadal, Novak Djokovic and more in explosive interview
"I just feel like he has a sick obsession with wanting to be liked," he told podcast host and New York Times tennis writer Ben Rothenberg.
What do you make of Nick Kyrgios' behaviour? Do you think he should be allowed to continue playing tennis?