It comes just a few weeks after the Moulin Rouge and Lion star stepped out for a special screening of her new movie, Bombshell, in California last month.
For the occasion, Nicole stepped out in a tailored white blazer and matching trousers – looking every bit the leading lady that she is. While she stands tall at 1.8m, Nicole's choice of tailored straight-leg pants made her appear even more streamlined as she made a stunning appearance on the red carpet.
Nicole completed the sophisticated look by slipping a monochrome striped shirt beneath the blazer, which fastened at the waist in a single button. The finishing touch was a pair of gold velvet stilettos which featured a striking silver design on the toe.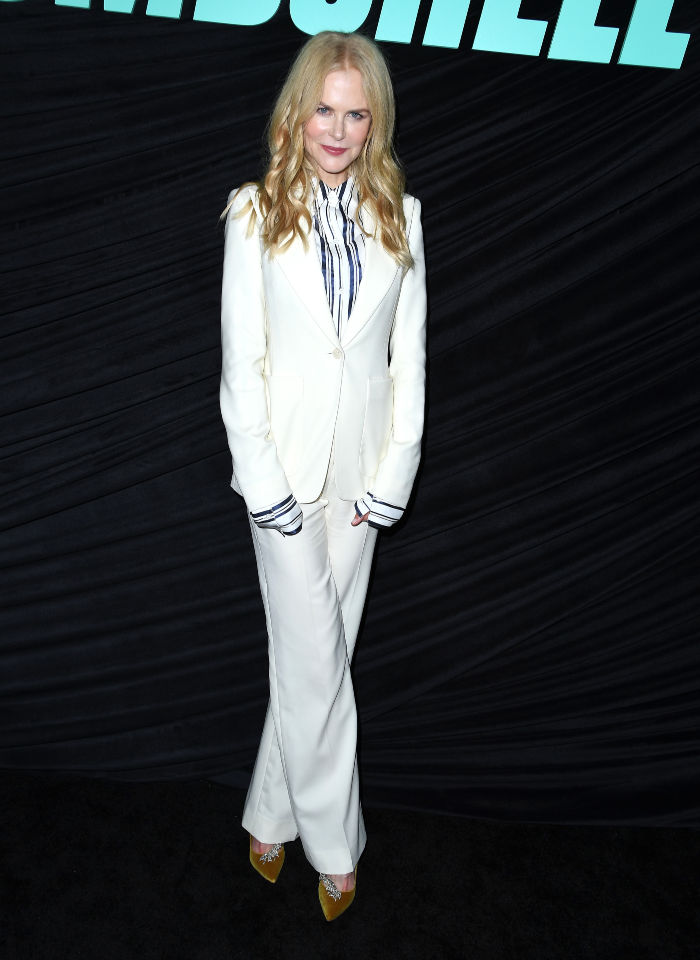 The mother-of-four wore her signature blonde locks down in loose waves over her shoulder and kept her make-up understated, adding a sole pop of colour in the form of pale pink lipstick.
The movie, which is set for release in Australia on New Year's Day 2020, focuses on the real scandal that erupted at Fox News in America in 2016 after more than 20 female employees came forward with claims of sexual harassment against former chairman and CEO Roger Ailes, who passed away in 2017.
According to the film synopsis: "Bombshell is a revealing look inside the most powerful and controversial media empire of all time: Fox News, and the explosive story of the women who brought down the infamous man who created it."
Kidman stars as former Fox anchor Gretchen Carlson in the movie, who is one of the women who came forward and spoke out, while veteran actor John Lithgow takes on the role of the late network boss.