Standing tall in statement white heels, the mother-of-one sported a huge smile while her husband President Donald Trump addressed the crowd who gathered to celebrate the sunny weather.
"A memorable night on the South Lawn at the @WhiteHouse this evening," she wrote in a post on Twitter. "Thank you to the members of Congress and their families who joined us for our traditional Congressional picnic celebrating the start of summer!"
The former model shared a selection of snaps from the event, showing her and the president interacting with the guests and posing for snaps with children. However, it wasn't all fun and games, with Melania and Donald also taking time to speak to the National Oceanic and Atmospheric Administration about the dangerous weather felt across the country at this time of year.
"This afternoon @POTUS & I were briefed by @NOAA & @fema regarding the preparations the administrations is taking for the 2019 hurricane season," the First Lady wrote on Twitter alongside a number of snaps of their chat inside the White House.
"To be sage in any time of crisis listen to your local authorities and find shelter."
Melania's outfit choice was a stark difference from the one worn earlier last week at the official launch of the Trump 2020 campaign.
The First Lady looked dazzling then too in a bright yellow jumpsuit and matching yellow stilettos as she showed off her figure in front of the screaming crowd – before sharing a very rare moment of affection with her husband.
Taking to the podium first, Melania had the crowd on their feet as she shared her hopes for another six years in office, before passing over to Donald to take the reins.
As she walked off, the president held his arms wide and pulled her in for a close embrace, with the pair even sharing two kisses before he began his speech in Orlando, Florida.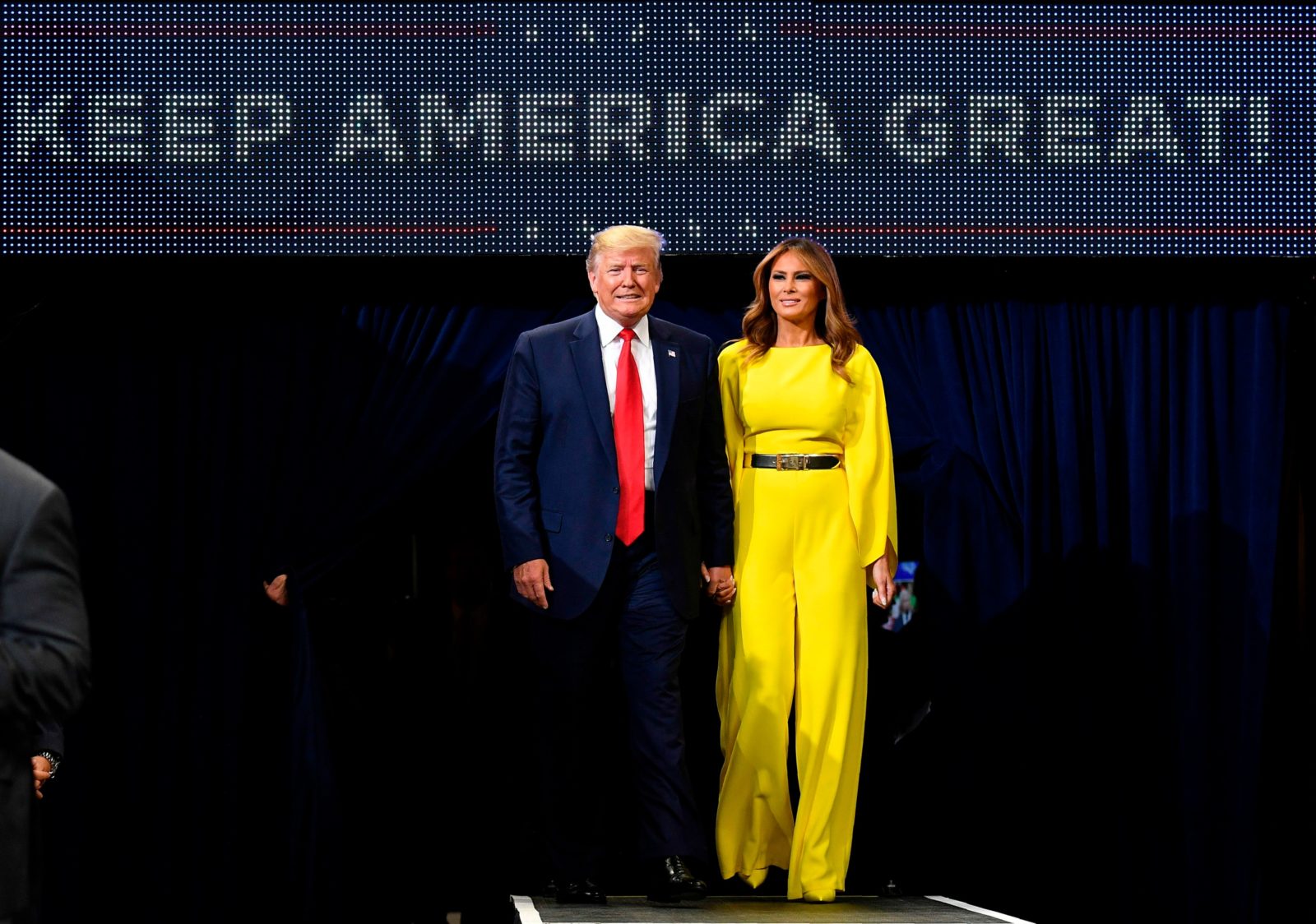 Dressed in a smart suit for the occasion, Trump began his speech with a lengthy attack on his former rival Hillary Clinton – claiming he would have been punished and slammed much worse if it had been him caught up in her famous email scandal.
Read more: Her boldest outfit yet? Stylish Melania shares rare loving display with Donald
He went on to slam Democrats in a passionate speech, adding: "They wanted to deny you the future you demanded and the future that America deserved and that now America is getting. Our radical Democrat opponents are driven by hatred, prejudice and rage. They want to destroy you, and they want to destroy our country as we know it. Not acceptable, it's not going to happen."
Are you a fan of Melania Trump? What do you think of her latest outfit choice?