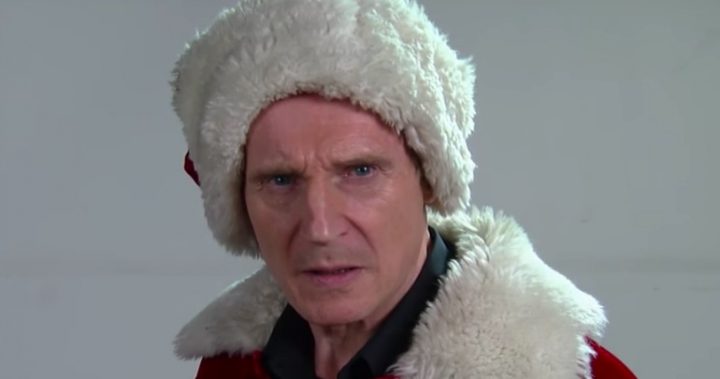 Liam Neeson has played some tough roles throughout his acting career, but this role is sure to give you a laugh!
The actor has appeared on The Late Show with Stephen Colbert but it's his mall Santa audition skit that's got everyone laughing.
On the episode, which screened on Friday night, Neeson plays himself auditioning to be a mall Santa.
If you can't picture him as Santa, you're not alone.
He starts the skit by taking the famous words of a Christmas carol.
"I see you when you're sleeping. I know when you're awake," he says in a serious tone.
The director asks him to "think jolly", "think Santa".
And that's when it gets even funnier.
Neeson puts on a fake smile but he can't shake off the serious tone.
"I watch you when you're sleeping," he says.
"Oh yeah. I know when you're awake. I know.
"I'm making a list and checking it twice. I'm going to find out whose naughty or nice."
When the director is critical of Neeson's portrayal, he justifies his actions.
"Do you understand what Santa's saying?," he says.
"He's making a list, naughty, nice, he's detailed.
"He's single minded. He's an eye in the sky bringing swift judgment."
It's definitely a flashback to his infamous role in the Taken movies!
Did this give you a giggle? Are you a fan of Liam Neeson?
Comments