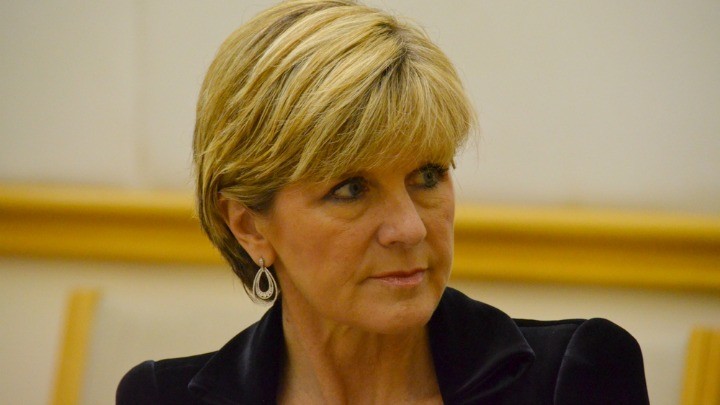 While the new boss of the Liberal party may insist this is no time for "revisionist politics", the message does not seem to have reached the backbench, where some members are still stewing over the overthrowing of Tony Abbott.
As a result, Julie Bishop has been forced to spend the day defending herself against the thinly veiled suggestions she played a major role in Mr Abbott's downfall, possibly even being the one to thrust in the knife.
Tasmanian MP Eric Abetz was the first the throw down the gauntlet, demanding to know why Ms Bishop's Chief of Staff, Murray Hansen was at a drinks party at which the final plans were laid in place for Malcolm Turnbull to challenge the leadership, back in September.
"When I was a minister I would have never countenanced my chief of staff going to such a meeting without my imprimatur and approval," Senator Abetz told Sky News.
"One would imagine that if there were such a meeting there might have been an obligation to, as a loyal deputy, to report that to the leader at the time."
Ms Bishop did not tell Tony Abbott about the leadership challenge until the following morning.
Today, the foreign minister admitted that her CoS was at the event, saying, "He was there to meet with (Liberal MP) Peter Hendy. I did not know who would be attending the meeting and, of course, like all chiefs of staff, they feed back the information that they've learned."
Barely containing her exasperation, Ms Bishop said in a brief media conference today that she informed the Prime Minister as soon as she possibly could.  "I met him within five minutes of his attendance here in Parliament House."
Ms Bishop said repeatedly that it was her job as deputy leader to know what the party members were thinking and that it was therefore appropriate that her CoS be at the meeting.
While Mr Abetz insists the revelation is "disappointing" and MPs are "entitled to know exactly what was going on", we're wondering, in the great scheme of things, does it matter? If Julie Bishop did indeed play a role in bringing Tony Abbott's leadership to a close, will it change anything? considering how unpopular the former PM was at the time of his departure, was Ms Bishop right or wrong to jump ship (if that's what she did)".
Labor deputy leader Tanya Plibersek has this to say about the situation: "Her own party are saying that she has questions to answer, that it's plain that she was up to her neck in the bringing down of Tony Abbott. Julie Bishop has a very well-deserved reputation amongst her colleagues for being a survivor."
Is it important to you to know the whole truth about the leadership spill or should we let bygones be bygones? 
Comments