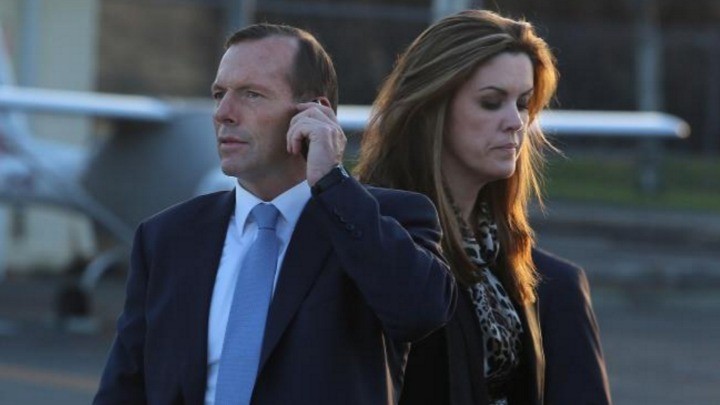 Tony Abbott hasn't shied away from the spotlight since being ousted as Prime Minister in September last year, but this new round of attention is something he would surely rather avoid.
A new book titled The Road to Ruin, written by political commentator and author Niki Savva, has opened the floodgates on claims the former PM and his Chief-of-staff Peta Credlin were having an affair.
The books describes in detail a number of occasions where Mr Abbott and Ms Credlin's interactions raised eyebrows among other staffers and caused some to question the boundaries of their relationship.
In an excerpt of the book published in The Australian, Savva tells about Ms Credlin feeding Mr Abbott food from her fork while they were out to dinner at a restaurant in Melbourne and resting her head on his shoulder at the end of the night.
The book has been met with mixed reactions, with some people questioning why the pair's personal lives need to be made public and discussed by the entire country.
Others have lambasted the former PM and Ms Credlin and addressed other issues in the book, which point out the numerous times Mr Abbott was warned his working relationship with Ms Credlin was damaging his reputation with other party members.
The affair claims come off the back of a tough week for Mr Abbott who has faced criticism over his comments on the Defence white paper and an essay he published titled, 'The Economic Case for the Abbott Government', which essentially tried to defend his disastrous 2014 budget.
Yesterday,  Malcolm Turnbull publicly scolded Mr Abbott over his comments on the Defence white paper, implying that Mr Abbott should be careful of what he says as the PM would not hesitate in correcting him openly and publicly.
At this point in his political career, any chiding from the PM can only add to the damage that has already tarnished his reputation.
Although Mr Abbott seems to be living in the eye of the storm lately, he is not the first ousted PM to suffer.
Kevin Rudd faced spectacular backlash during his time as a demoted backbencher in the Labor party and faced similar claims of intentional backstabbing and document leaks before rising to claim back his prime ministership from Julia Gillard.
All that's left to do now is wait and see how Mr Abbott decides to play the rest of the game.
What do you think about the affair claims in the new book? Do you think Tony Abbott is trying to cause trouble for the government? Could Tony Abbott make a comeback like Kevin Rudd and become PM again?
Comments