8 Dining experiences you can't miss in Hong Kong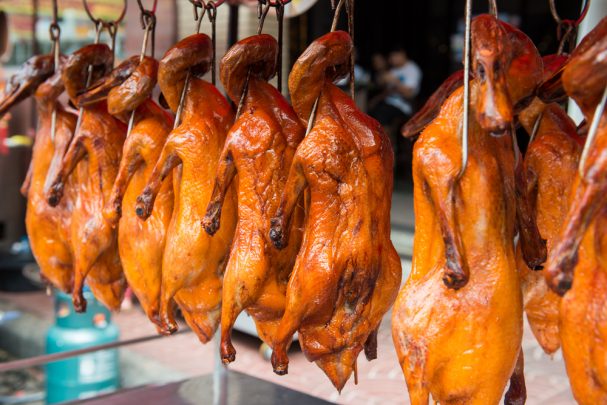 Hong Kong is a food-lover's paradise, thanks to a mix of cultures that have left their mark on the local cuisine. Not only is Hong Kong's food scene influenced by the Chinese and Cantonese, but there is also a hint of Japanese, Southeast Asian, British and other Western influence, too.
But with all that variety, and more than 24,000 licensed eateries to take your pick from, choosing a restaurant in Hong Kong is no easy task. That's where we come in handy, here are eight dining experience that you simply cannot miss if you're travelling to Hong Kong.
Read more: Add Hong Kong to your bucket list here
1. Pineapple Buns, Kam Wah Café
Ad. Article continues below.
A pineapple bun from the Kam Wah Café is a must while you're in Hong Kong, and if you don't like pineapple, don't worry, there's no pineapple in this little piece of bready goodness. It's just called the pineapple bun because of its shape and crispy shell. And that slice in the centre isn't cheese, it's butter! This little dish just keeps getting better and better.
2. Ginger Milk Custard, Yee Shun Milk Company
Ad. Article continues below.
The ginger milk custard from the Yee Shun Milk Company is one of the most popular dishes in the city. There are a variety of different flavours to choose from but the ginger bowl is a local favourite.
3. Roast Goose, Yat Lok
Ad. Article continues below.
If you want to try a Michelin Star meal, but don't care for the fuss of dining at a fancy restaurant, then look no further than Yat Lok and their signature dish, the roast goose.
4. Dim Sum, Tim Ho Wan
Another Michelin Star restaurant, without the hefty price tag, has got to be Tim Ho Wan. The owner was a famed dim sum expert for the Four Seasons, before opening up his own place so people with all different budgets can try his delicious parcels.
Ad. Article continues below.
5. Beef Brisket
This curry dish, topped with noodles and slices of beef is a hot favourite in Hong Kong and a must-try while you're here. You can slurp this meal to your heart's content.
6. Egg Tart, Tai Cheong Bakery
Ad. Article continues below.
These tiny egg tarts have been flying out the door of this traditional bakery for more than 50 years and hopefully they'll be here for many more. They're nice cold, but especially delicious while they're still hot.
7. Matcha Ice-Cream, Via Tokyo
Ad. Article continues below.
Did we mention there's a strong Japanese influence in Hong Kong cuisine? At Via Tokyo, you can dig into some of the cutest, most delicious treats including this green tea ice-cream.
8. Dessert Dim Sum, Fortune Young
The desserts couldn't get any cuter than what you can get from Fortune Young. These are a popular morning tea or an after-dinner dessert, and there are savoury varieties, too, so you can order them with your dinner.
Have you been to Hong Kong? What dining experiences would you add to the list? Let us know in the comments section below.