When you move to a retirement community, most people assume they'll have the ability to age in place, through all types of health issues. But for many people this doesn't turn out to be the case, being forced to move away from their partner when they require higher levels of care. It is a distressing and destabilising problem that retirement village operator, Ryman Healthcare is working hard to solve across Victoria and New Zealand.  And they want people to understand just how important it is to ask the important questions like the ability to age in place, when choosing a retirement village.
"What will happen if my health and care needs increase significantly?  Do you offer independent and assisted living as well as low, care, high care and specialist dementia care within the one village community?"
Ultimately, if you'd like to age in place, Ryman Healthcare recommend that you should consider looking for a more comprehensive service offering when considering a retirement community.
Aged care when you need it 
Ryman Healthcare's retirement villages across Victoria provide comprehensive aged-care options including low care, high care, specialist dementia care, and respite care at each village, to cater to every individual's needs. This means that if you or your partner need to move into, say, aged care, at some point, it can be as easy as relocating to the next floor of your apartment building.
Supportive culture
Having a comprehensive care offering on site means many residents at Ryman's retirement villages are experiencing varying healthcare situations. As a result, you will find there's an empathetic, understanding community on hand and a strong culture of support. If someone's been unwell, or had a bereavement, fellow residents rally around them. "I do think there is care and concern because we're in here for all sorts of reasons and I think that people do want everybody to enjoy the place and see it as home," says Kath, who lives at the Weary Dunlop retirement village at Wheelers Hill.
Kath and husband Jim met Graham and Helen soon after moving into the village and became friends fast. When Helen moved into the village's specialist dementia care unit – it was one of the toughest times in Graham's life. During this period, Kath and Jim were a constant pillar of support for Graham, catching up with him for a quiet drink in the village lounge every Tuesday, Thursday and Friday evening, after Graham had visited Helen.
Graham says he doesn't know how he would have coped with supporting Helen during her dementia and then her passing earlier this year if he hadn't had Jim and Kath to lean on. "I think I would have struggled," he says. "Going through that period of [Helen's illness] you definitely need someone to back you up. It meant a hell of a lot because they were very supportive… Jim and Kath were there in spades."
The fact that Ryman Healthcare villages provide comprehensive aged-care offering on site was also a big drawcard for Kath and Jim, but for slightly different reasons. "We didn't want our daughters' lives disrupted by having to look after us," Jim explains. "I've seen it happen where someone has had to look after an elderly parent for 10 years, 15 years and I thought 'no way'. We'll be self-sufficient and they won't have to worry about it. We've got carers here if we need them. That, to me, was a huge thing."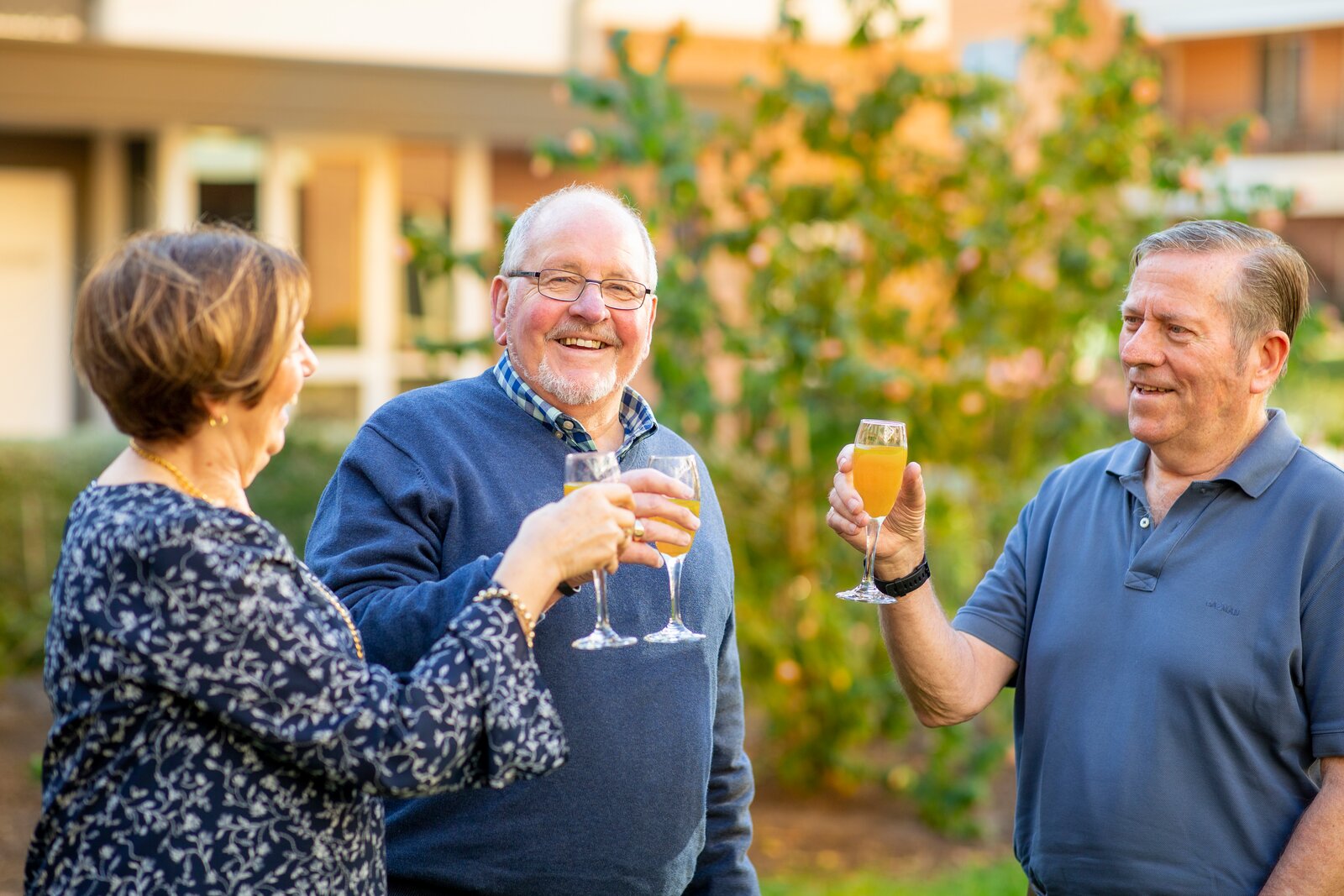 But Jim and Kath weren't just looking for a home with comprehensive aged care on site,, they were also looking for a community. Before moving to Ryman's Weary Dunlop Village, they said they didn't really talk to their neighbours and would experience days at home where they didn't talk to anybody. "I just feel so much more social here [at the village]," Kath explains. "You walk out in the hallway and it's 'Hi Kath', and you have a bit of a chat."
And since moving, she says that life certainly hasn't slowed down. "On the contrary, you sort of think, 'where did the day go?' Jim and I walk a lot, we're both readers, we swim, we play table tennis, we like our music, we garden two mornings a week, and we go down to have a drink every so often at the lounge," she says.
Lifestyle and wellbeing 
One of the great things about Ryman villages is that they offer plenty of lifestyle and wellbeing amenities including a swimming pool, bowling green and gym. There's even a Ryman Triple A (Ageless, Active, Aware) complimentary exercise program, which encourages residents to stay active and keep moving.