Radio star Ian Skippen confesses his love … for Hyundai's new Sonata
Sponsored Content
Motors
7 months ago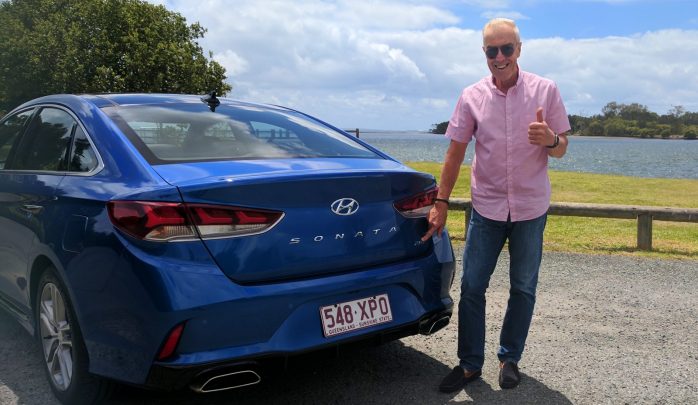 I've never been behind the wheel of a Hyundai so I wanted to find out about a Sonata that urges me to 'settle for more'.
"So, what is a Sonata?" I asked Siri on the iPhone. She told me it was an afternoon rest or nap.
"No!" I said. "Sonata."
"It's from Latin and Italian 'sonare' meaning 'to sound'. A piece played rather than sung."
Now that sounded more like it. I was about to settle in to play the Sonata made famous by the composer Hyundai. The siesta would have to wait …
Until now my only encounter with Hyundai had been to admire the i30, marvel at an i20 sideways in car rallies or glimpse a Queensland Police Sonata in my rearview mirror. I thought the constable was smiling because he had nabbed a lawbreaker. No. He was loving his ride.
Before I slid behind the wheel of my ride, the electric blue, 2-litre turbo Premium Sonata was making music standing still. I was impressed and casting an eye, okay, a leering glance, over this vehicle, not knowing initially that it was THE ONE.
Sexy, sophisticated, sleek and sporty. From the panoramic glass sunroof, to its cascading front grille and attractive derrière with twin exhausts, down to its 18-inch, full-alloy Michelin Pilot Sport 3 shod wheels. I was being seduced and was ready to settle for more.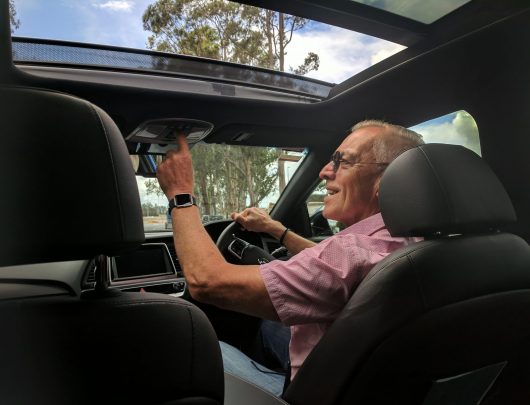 And the Sonata 2018 gives more on so many different levels, and at a price that is many thousands more competitive.
Before I had even pushed the start button of the 2-litre turbo, I had lost count of WOW moments I had had. I had gone from "well, it won't have this or that" to "how much more has it got?".
If a Sonata is to be played, I was playing, but singing its praises. Leather-appointed seats, I had 12 different adjustments and lumbar support. I gave that a tweak. Beautiful. A squirt of seat ventilation, or heating, controlled from the centre console keyboard.
There's a couple of 12v outlets and a wireless charging pad below the multimedia system. Need more music? Hook up Bluetooth and Apple Car-Play or Android Auto or bung in your iPod and crank up the six speakers.
Oh, a late reveal, the steering wheel has a square bottom for easier driver entry, and mounted controls.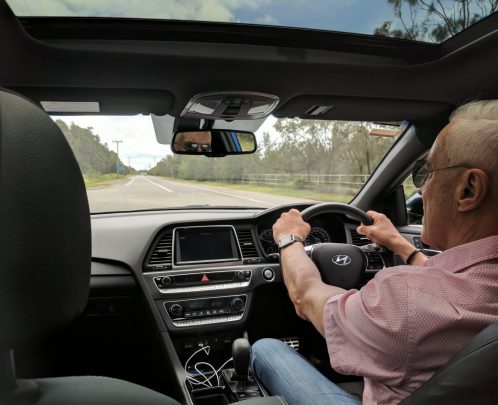 I opened the boot latch to check out the 520 litre capacity. I needn't have bothered, though – the Sonata has a hands-free 'smart' boot. Just stand there loaded up with your shopping and bingo, she's open. Plenty of room for golf clubs and me.
The rear seats fold for extra space. I jumped in behind the driver's seat and found ample room for my 181cm frame. The rear passenger window even had its own curtain.
I was turned on, yet we hadn't even turned her on.
Back behind the wheel, we are ready to make some music. Alloy sports pedals feel good. I know I'm safe because this lady has the maximum 5 Star ANCAP rating and Hyundai Smart Sense technology.
I kicked the 180kw 2-litre turbo into life. There's an 8-inch touch screen, a great instrumentation cluster, colour LCD easily visible.
I'm in the Eco drive mode. There's four to choose from, including Sport, Comfort and Smart. Maybe I should have chosen Smart. So infatuated with the Sonata was I, that I turned out of the parking lot happily navigating the one-way street. The wrong way. Here was I thinking the guy waving to me had car envy.
We headed in the right direction playing my Sonata. As I was playing, it was letting me know through driver attention alert if I deviated from my lane, the exterior mirrors warning with blind spot alert of approaching vehicles.
The 2.0 litre motor is willing and responsive and, coupled with the, 8-speed transmission, has plenty of get up and go when needed for overtaking.
At the lights or stationary in traffic, the activated auto-hold button does just that, until you're ready to move off. On the highway, while in Smart cruise control travelling at 100 kilometres an hour, a truck pulled in front of me, I was happy to let the car and truck do their thing. The Sonata subtly reduced speed as needed.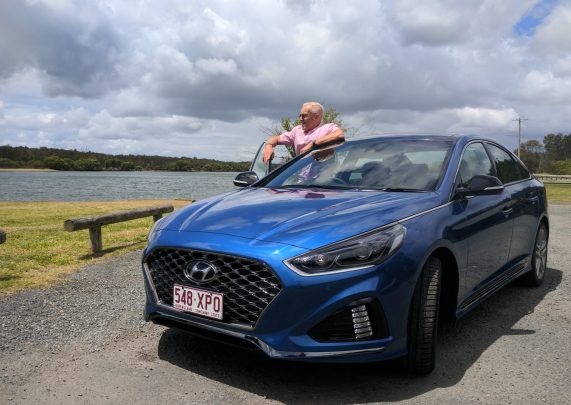 I found the Smart driving mode, well, more than smart. It works out your driving style and applies aspects of all four modes. The 2018 Sonata is comfortable and roomy, with a quiet ride inside, and a solid feel through the steering.
A neat turning circle will be more than handy in a supermarket car park. And while on car parking, did I mention the front and rear parking assist and the rearview camera?
Seriously, though, I was prepared to be underwhelmed.
My expectation level was low. After all, I was stepping out of a luxury Korean car that had it all. Or did it? The Hyundai Sonata delivers so much more. More bang for your buck from the 2.4 litre Active and even more from the 2.0 litre Turbo Premium.
A Sonata, of the musical kind, is one of two methods of organising, interpreting and analysing concert music. The 2018 Hyundai Sonata will be music to your senses and much more.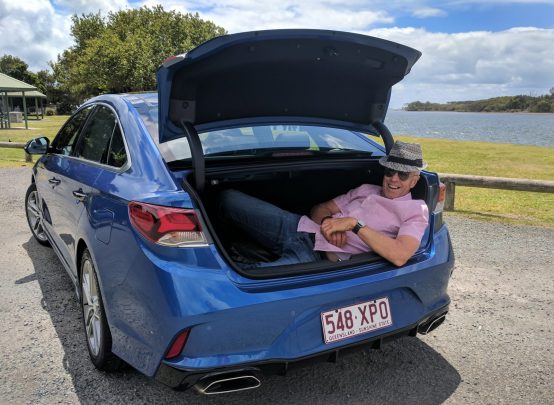 Now for the siesta …
Do you prefer a sedan or another style of car? What features are must-haves for you?