Remembering Glen Campbell's huge impact on music in the '60s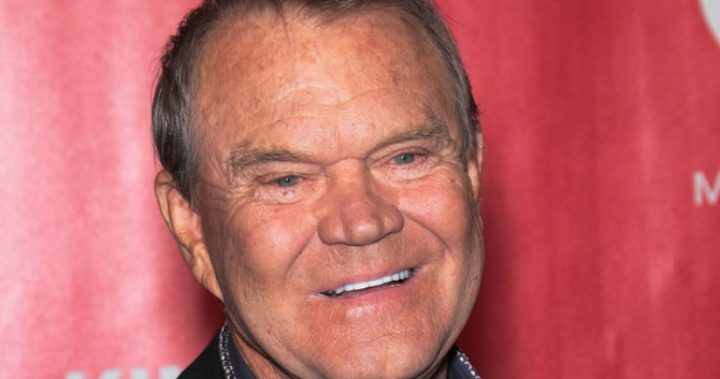 After battling Alzheimer's disease for six years, Glen Campbell finally passed away aged 81 in Nashville, Tennessee, on the August 8, 2017.    
Tributes to the star poured in yesterday, but it's still hard to estimate the sheer scale of his impact on music – his sweet, soothing tenor voice perfectly represented the meeting point of country and pop.
And it showed in his remarkable success; over his career, he produced 70 studio albums, 45 million record sales, nine US number ones, 12 gold records and four platinum records.
A look back at his amazing output underlines just how much he contributed to music fans' enjoyment over such a long period.
He was born Glen Travis Campbell on April 22, 1936, at Delight, Arkansas to a musical family and was given his first guitar at the age of four.  By six, it was clear the farmer's son was a musical prodigy.
Ad. Article continues below.
As a teenager, the precocious Campbell toured with his own band, called Glen Campbell and the Western Wranglers, before heading to Los Angeles in 1960.   
As USA Today reported, Campbell had a pithy explanation for his speedy exit from the farming town where he was born.
"I spent the early parts of my life looking at the north end of a southbound mule and it didn't take long to figure out that a guitar was a lot lighter than a plow handle," he said in a late 1970s press bio, the newspaper reported.
In the early 1960s, his virtuoso guitar playing earned him session work with Frank Sinatra, Elvis Presley, The Monkees and The Beach Boys, with whom he toured briefly in 1965 when Brian Wilson was unavailable.  This was all despite Campbell being unable to read music.  
But big success came in 1967 with the John Hartford composition 'Gentle On My Mind'. Then came a trio of million-sellers written by Jimmy Webb – 'By The Time I Get To Phoenix', 'Wichita Lineman', and 'Galveston'.   
Ad. Article continues below.
In 1967, he was awarded a record-breaking four Grammy Awards for 'Gentle On My Mind' and 'By The Time I get To Phoenix'.   
In 1968, he recorded the theme song for John Wayne's Oscar-winning movie True Grit and also had a co-starring role for which he was nominated for a Golden Globe Award as Best Newcomer.    
He won another two Grammy Awards in 1968 for the best album By The Time I Get To Phoenix and best record Wichita Lineman. 
After a recording hiatus during which Campbell toured heavily, he followed this up in 1975 with another Grammy for the best record Rhinestone Cowboy which contained his signature hit song of the same name, and then another in 1980 for best record by a duo, which was Dream Lover with Tanya Tucker, his much-younger fiancé.   
But the 1970s was when Campbell also began drinking heavily and using cocaine, he later admitted. He and Tucker broke up acrimoniously in 1981, but he went on to find Christ and end his substance abuse. In 1982 he married a Radio City Music Hall rockette called Kimberly Woolen, with whom he remained for the rest of his life.
Ad. Article continues below.
In 2011, Campbell revealed he'd been diagnosed with Alzheimer's disease, and he embarked on a Goodbye Tour that was scheduled to run for three weeks but turned into a 15-month final performance.
Campbell played his last show in November 2012, and he was given a Grammy Lifetime Achievement Award in the same year (he'd been made a member of the Country Music Hall of Fame in 2005).
James Keach, who directed a documentary that chronicled that long farewell four, recalled that Campbell's family had become his carers at that point, while his band backed him when he forgot the music, and fans filled in the words when he dropped some lyrics.
But Campbell himself remained upbeat.
"He wanted to tell the story of his Alzheimer's disease," Keach told America's ABC News. "He was told to hang up the guitar and instead he proudly walked out and said, 'This is who I am. There's no shame in my game and I am going to go out singing the song.' That was Glen."
Ad. Article continues below.
Campbell's top twenty hits in Australia were:
1968 'Wichita Lineman' ( #18);
1969 'Galveston' ( #7), 'Where's The Playground Susie' ( #17), 'Try A Little Kindness' ( #13)
1970 'Honey Come Back' ( #7), 'Let It Be Me' with Bobbie Gentry (#20), 'All I have To Do is Dream', also with Bobbie Gentry (#3), 'It's Only Make Believe' ( #2)
1975 'Rhinestone Cowboy' ( #5)
My personal favourite was the first time I heard him on radio, singing 'Wichita Lineman'. What's yours?