You can avoid being swooped by magpies, but not the way you think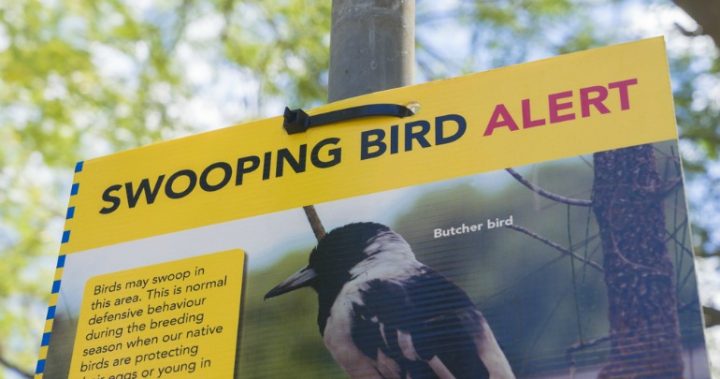 In Australia, the arrival of spring doesn't just mean the end of bitterly cold days, sunshine, and the blooming of gardens with bright, pretty bulbs. While it may be tempting to go out in the sunshine  it feels like forever since you last saw and take a stroll around the neighbourhood, it can turn out to be anything but a pleasant walk.
Because with spring comes all the baby animals, including birds. And like all parents, many of our birds are super protective of their nests, and will swoop and assault anyone who walks by.
You may have even seen signs around erected by local councils warning of the danger posed by species such as magpies, noisy minors, plovers, and butcher birds.
According to experts however, there is a way to protect yourself from swopping magpies, and it isn't any of the ways you might have grown up with. 
Forget the empty ice cream tubs, reflective sunglasses on top of your head, painted on eyes, and cable ties on helmets. All you need to do is make make friends with the angry bird!
Ad. Article continues below.
Gisela Kaplan, author and emeritus professor in animal behaviour at the University of New England, told ABC Radio Melbourne that the birds will only swoop someone they don't know. 
"We know that magpies remember and recognise human faces and they will remember them for years," Kaplan said. 
"They will form very long friendships, like dogs."
She said that if you manage to prove yourself to a magpie, even during breeding season they will remember and trust you.
"They will introduce their young [to you] and they will be the most charming birds," she said. 
However, it works the other way too, so if you ever treat a magpie badly, you best invest in some armour or hunker inside for the duration of spring in the future. In fact, this works badly for schoolchildren who all look alike in their uniforms. 
Have you ever tried making friends with a magpie? Does it work?