World's oldest-known message in a bottle discovered on Australian beach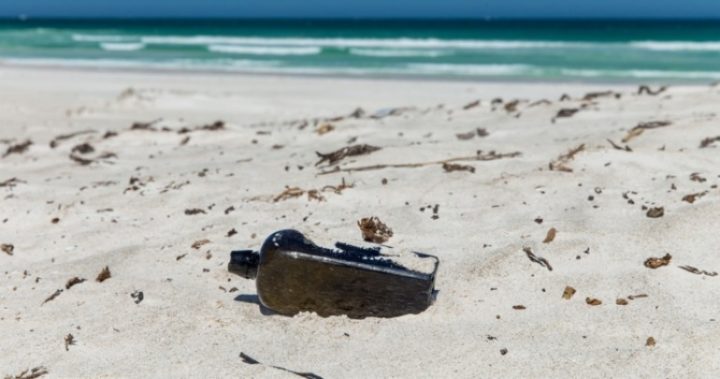 A Perth woman has found the world's oldest message in a bottle, almost 132 years after it was thrown into the ocean. 
Tonya Illman was walking across sand dunes just north of Wedge Island — 180 kilometres north of Perth — when she stumbled upon a bottle in the sand. 
"It just looked like a lovely old bottle so I picked it up thinking it might look good in my bookcase," Tonya said, in a statement released by the Western Australian Museum. 
"My son's girlfriend was the one who discovered the note when she went to tip the sand out," she explained. "The note was damp, rolled tightly and wrapped with string."
Tonya took the note home and, after drying it out, noticed that the message was penned in German on an official-looking form. Her husband Kym researched the find and discovered the form, dated June 12 1886, was part of a massive long-term German oceanographic experiment. 
Ad. Article continues below.
"After much digging, we were able to make out the date, the coordinates, the ship's name and direction of the voyage (Cardiff in Wales to Makassar in the Dutch East Indies, now Indonesia)," Kym said. 
The bottle had been thrown from Paula, a German sailing ship, as part of a drift bottle experiment to study ocean currents and find "faster, more efficient shipping routes."
Between 1864 until 1933, thousands of bottles were thrown overboard from German ships, each containing a form on which the captain would write the date, the ship's coordinates and details about its route. 
On the back of the form, the message asked the finder to write when and where the bottle had been found and return it, either to the German Naval Observatory in Hamburg or the nearest German Consulate. 
The Illmans brought the form to the Western Australia Museum, where the assistant curator of maritime archaeology Ross Anderson conducted a series of investigations. According to the museum, he determined it was a mid-to-late 19th-century Dutch gin bottle, and the form inside was written on cheaply-made 19th-century paper.
Ad. Article continues below.
"Extraordinary finds need extraordinary evidence to support them, so we contacted colleagues in the Netherlands and Germany for help to find more information," Ross said. 
Until now, the oldest message in a bottle was just over 108 years old. The Perth couple have loaned the bottle and message to the Western Australian Museum to display for the next two years. 
What are your thoughts? What do you think of this discovery?
With Facebook removing news sites from your feeds we ask that you sign up for Starts at 60's emailers here. And to keep us on your wall, join some of our new Facebook groups and clubs:
News Junkies Club – Australia
News Junkies Club – USA 
See news on the change and links to all our other clubs and groups here.