Terror attack in Barcelona leaves residents and tourists in fear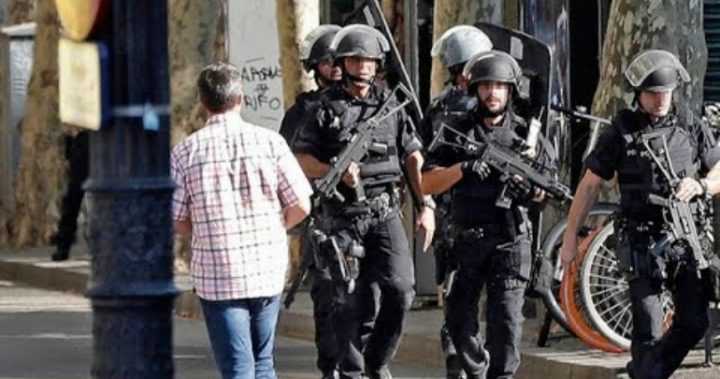 At least 13 people are dead and more than 50 injured after a horrifying incident which saw a van plough into pedestrian's in Barcelona's bustling Las Ramblas district. 
The incident is being treated as a terror attack, and police have arrested a man in relation to the crash. 
Police in the capital of Catalonia said in a press conference that the number of fatalities from the attack is expected to rise. 
According to reports, the van zig-zagged at speed down Las Ramblas avenue, a popular tourist spot, ploughing straight through crowds. 
Witness Tom Gueller told the BBC that he knew it was a terror attack. 
Ad. Article continues below.
"I heard screams and a bit of a crash and then I just saw the crowd parting and this van going full pelt down the middle of the Ramblas," Gueller said. 
"I immediately knew that it was a terrorist attack or something like that.
"It wasn't slowing down at all. It was just going straight through the middle of the crowds in the middle of the Ramblas."
Other witnesses described chaos as the scene unfolded. 
"We saw everything. People started screaming and running into the office. It was such a chaotic situation," another witness said.
Ad. Article continues below.
"There were families with children. The police made us close the doors and wait inside."
Local media reports say that a second getaway van had been found north of Barcelona, and they were still searching for the driver. 
US President Donald Trump tweeted his condemnation of the attack, and followed it up with another tweet about Islamic terrorism, although authorities have not said who was behind the attack. 
The United States condemns the terror attack in Barcelona, Spain, and will do whatever is necessary to help. Be tough & strong, we love you!

— Donald J. Trump (@realDonaldTrump) August 17, 2017
Ad. Article continues below.
Study what General Pershing of the United States did to terrorists when caught. There was no more Radical Islamic Terror for 35 years!

— Donald J. Trump (@realDonaldTrump) August 17, 2017
How does it make you feel to wake up to news of more terror in the world?