Un-Australian or not? Tony Abbott's sister attacked at violent protest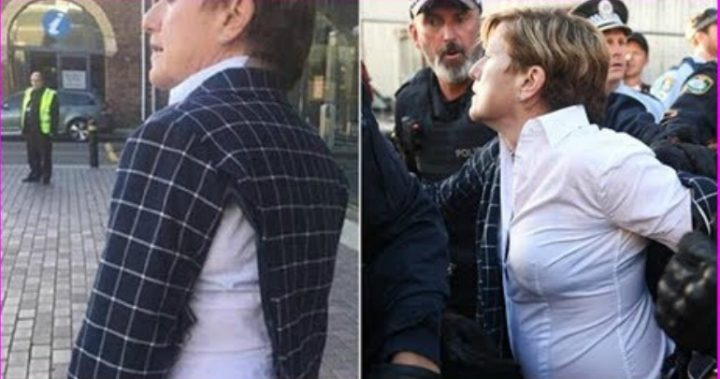 Tony Abbott's sister Christine Forster was attacked at a fundraising event for the former prime minister in Sydney last night, with her jacket torn off her back in the fray.
Reports said about 200 people confronted guests attending the fundraiser in Redfern, including Forster, who was forced back from the entrance by protesters until police surrounded her to help her push her way through the crowd. Her jacket was torn amid the pushing and shoving.
Speaking to the ABC, Forster, who's a councillor for the City of Sydney, said she heard shouts of "That's Tony Abbott's sister," as she (below, in a blue checked jacket) and her partner Virginia Edwards walked toward the venue at the Australian Technology Park, before the crowd closed in on her.
A violent welcome from rioters (including war-criminal-supporter @leerhiannon) at the Warringah FEC Dinner with Tony Abbott and Peter Dutton tonight. Disgraceful assault of @resourcefultype. pic.twitter.com/SO1qJC37dT

— Alex Dore (@dorealex) November 10, 2017
Ad. Article continues below.
"People were trying to punch us, people ripped the jacket off my back," she told the ABC. "If you want to make your political protest, anyone can make a political protest anywhere in Australia, but you don't do it like that."
She told other media outlets that the crowd was "berserk", with people spitting and snarling in her face. Forster's partner Edwards, meanwhile, reportedly described their treatment by the protesters as "un-Australian".
Liberal party supporters trying to get into function where protest again Manus island detention taking place pic.twitter.com/fl9EoJ3ylH

— Sarah Gerathy (@sarahgerathy) November 10, 2017
The fundraiser for Abbott was due to be attended by Immigration Minister Peter Dutton, whom protesters blamed for the situation on Manus Island, where almost 500 asylum seekers and refugees are refusing to leave a now-closed detention centre. They've been threatened with forcible removal but say they fear for their safety at new homes placed within the local community on the island.
Ad. Article continues below.
The detention centre has been officially closed for about 10 days, with no new food or water supplies and no power, and the remaining residents are due to be evicted this weekend.
Greens Senator Lee Rhiannon, who spoke at the protest in Sydney, accused the government of committing "crimes against humanity" for its treatment of the asylum seekers and refugees on Manus Island. She tweeted a picture from what she said was a "great" event.
Protest against Dutton and Abbott is huge.Gr8 2 see many vocalising their disgust with the govts abhorrent treatment of refugees#evacuatenow pic.twitter.com/fuj09D61go

— Senator Lee Rhiannon (@leerhiannon) November 10, 2017
Rhiannon told The Australian that it was the police who had mishandled the situation at the fundraiser, not the protesters.
Ad. Article continues below.
"We're here standing with the 600 men on Manus Island, I'm angry, so many people are angry," she reportedly said.
But Cabinet Minister Christopher Pyne was unrepentant when speaking to the ABC on Friday afternoon, calling the people who remained at the detention centre "squatters".
"They could go to East Lorengau, West Lorengau, Hillside House. They could go to Nauru, the United States, they could go home to their own countries, and many in fact have done so," he said.
Who do you think's in the right over Manus Island? Is violent protest an "un-Australian" way to behave? Should Tony Abbott's sister have been targeted?