Monster spider clings to life in devastating Queensland floods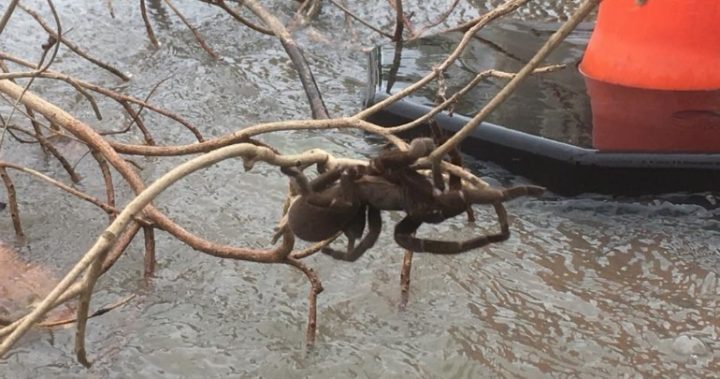 As devastating floods hit North Queensland, it's not just humans who are in danger of being swept away by flood waters.
Viral footage has shown a spider clinging to dear life on a branch over the flooded Herbert River at Halifax. Uploaded to Facebook by Andrew Gilberto, the monster spider was the stuff of nightmares.
The spider's eight strong legs gripped on to a tree branch tightly, although it looked like the creepy crawly wasn't going to make it. That was until Andrew stepped in to give the spider some much-needed help.
While most of us would probably belt the spider with a shoe or spray it with some bug spray if it was sneaking around our house, Andrew can be seen giving the spider a second chance at life. In horrifying scenes, he places his hand under the spider. It's here that you see just how big the spider is.
Ad. Article continues below.
"I reckon it's a funnel," someone in the video can be heard saying as the rising river continues to swell beneath the spider. "It's pretty big." The spider is thought to be a Whistling Spider, a name given to them due to unsettling noises they are known to make. Their diet usually consists of small birds, insects and frogs.
While the initial footage doesn't actually show the spider getting saved, a further video showed the spider being placed on dry land. It appears that the full branch was snapped off. It was placed on some grass next to a pharmacy. "Go little man," someone said in the video. "Run free."
People flocked to social media to share their thoughts on the critter. One person wrote: "Need a few tins to get rid of that bugger". Another comment read: "Thanks for saving the poor thing, the world needs more people like you. It is sad that so many fools would have killed it out of sheer ignorance and fear".
Ad. Article continues below.
A further message read: "You should be the next Attenborough".
Torrential rain has lashed Far North Queensland over the past week, with more than 400 millimetres of rain reaching the area. Many houses are now under water, with major roads now cut off.
Queensland Premier Annastacia Palaszczuk visited the impacted areas over the weekend and met with locals. It's fair to say she probably didn't come face-to-face with this spider.
What would you have done in this situation? Would you have saved the spider, or would you have let it die?