Michael Buble's wife breaks silence on son's cancer hell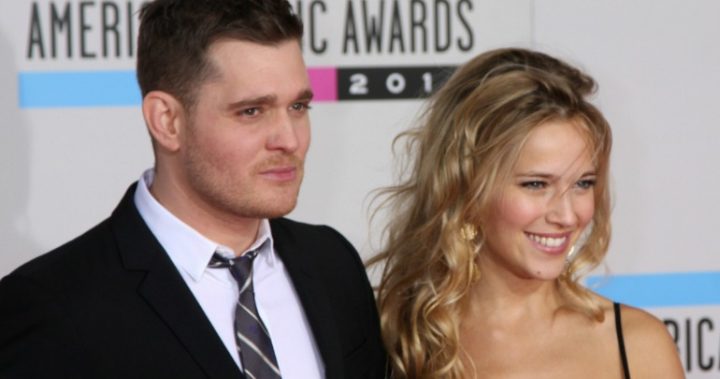 Michael Bublé's wife, Luisana Lopilato, has spoken about her son's cancer battle at length for the first time.
The Bublé family has deliberately stepped back from media attention since three-year-old Noah's diagnosis in November last year.
In an emotional segment (conducted entirely in Spanish) with Susana Giménez, Lopilato revealed the truth behind the diagnosis.  
While filming her latest movie, Lopilato realised that Noah was under the weather; thinking it was just a case of the flu, she took him to a nearby doctor.
Doctors originally diagnosed the condition as mumps.
Ad. Article continues below.
Two days later, Noah's paediatrician returned and disagreed with the initial diagnosis. He prescribed antibiotics for a suspected infection but wanted to do the full gamut of medical tests to be sure.
"When they did the ultrasound, I was told that they found something in [Noah's] belly," Lopilato says.
The couple had always agreed to seek emergency medical help in Los Angeles, a midway point between Lopilato's family in Argentina and Bublé's family in Canada.
With Bublé unreachable in England due to work engagements, Lopilato didn't waste any more time. She boarded a flight that night and took Noah to California, where it was discovered that the three-year-old had liver cancer.
"It was God," Lopilato says. "If we hadn't done that ultrasound to find out if he had mononucleosis, they wouldn't have discovered what they did in his stomach."
Ad. Article continues below.
Lopilato has been fairly close-lipped about the experience since the diagnosis, confirming briefly in April that Noah was "recovering well".
"It's devastating for any parent to receive the news we did," Lopilato says. 
"Thank God the worst is over but this is a long and ongoing process."
Last month marked Bublé's first public appearance since the diagnosis; he accepted the Governor General's Performing Arts Award in Canada, and thanked his family for their support.
"There are no words to describe how I feel about you. Sometimes 'I love you' just isn't enough because what I feel is so much more."
What do you think of Luisana Lopilato's emotional interview?